Belo Cipriani: Embracing Contemporary Blindness As an Author, Teacher, and Freelance Journalist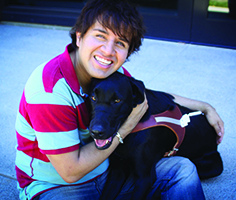 Beaten and robbed of his sight by childhood friends, Belo Cipriani was unexpectedly thrown into the world of blindness. He suddenly found himself learning how to walk, cook, and even date in the dark at age 26. But instead of letting vision loss defeat him, Belo has triumphed in his new world of contemporary blindness as an author, teacher, and freelance journalist.
When Belo first lost his sight, he struggled to find stories similar to his for encouragement and advice. He suffered from depression, anxiety, and PTSD because of his attack, so his therapist suggested he journal to help him cope. And it worked! As a result, Belo released a book, Blind: A Memoir. The book chronicles the two years immediately following Belo's assault.
"I am proud of the fact that I was able to do this so quickly," Belo explained. "I lost my sight in 2007, started writing the book in 2009, and it came out in 2011. I got through so quickly because my book was a diary. Had I waited any longer, I would have lost all of those details. I am happy I got it out there before the memories were gone."
Belo explained that writing the book helped him move on with this life after the attack. It allowed him to purge a lot of the anger that was inside him.
"When I held my book in my hand, I was able to forgive my attackers. It made it easier to move on with my life," Belo said. "It was very beneficial for me. When I was able to move forward, positive things started happening in my life."
Belo has experienced tremendous success with his book. It received an honorable mention for "best debut novel" and "best non-fiction" by the Rainbow Awards (2011), was awarded an honorable mention by the Eric Hoffer Book Awards (2012), and was a finalist for the First Horizon Award (2012).
Belo's book was recently added to BARD, a collection of over 50,000 audio books, magazines, and braille materials available for eligible readers to download. As an avid user of BARD, Belo is excited that his book is now available for download.
Belo's writing has opened up many career opportunities. In addition to being an author, he is a teacher, freelance journalist, and disability advocate. He is the national spokesperson for Guide Dogs for the Blind and 100 Percent Wine, a premium winery which donates all of its proceeds to nonprofits working to employ people with disabilities. In 2015, Belo was named "Best Disability Advocate" in the San Francisco Bay Area by SF Weekly and an "Agent of Change" for his advocacy work by the Huffington Post. Belo was also the first blind Grand Marshal for the 2015 San Francisco Pride Parade.
"I think when people read my story and see the things I have done, they assume that my blindness has become easier, but I still encounter difficulties because of my disability," Belo said.
"Even though it might seem like I'm fine, I still need to improve. Refresh my skills," Belo said. "I am always going to be learning and taking classes. I want to be seen as a professional who has the tools to function independently."
Belo stressed the importance of keeping an open mind when losing your sight. It wasn't until he embraced his blindness that he was able to do more things on his own.
"A lot of blind people compare their selves to their sighted self," Belo explained. "We are creatures of habit, and we get too accustom to things. Things usually change for the better. Learning new technology and adaptations will make your life so much easier."
Currently, Belo is a columnist for the Bay Area Reporter and contributes to articles to several national and international publications, including the San Francisco Chronicle, Business Insider, Huffington Post, Seattle Post Intelligencer, and the Houston Chronicle. He was awarded writing fellowships by Lambda Literary and Yaddo and was selected to attend the Bread Loaf Writers' Conference. He also has two book projects and a collection of essays in the works and teaches workshops in his free time.
"My goal in 5 to 10 years is to teach full-time," Belo said. "I am working to build my resume by increasing my publications. My long-term goal is to work at a university, but I would also be interested in working as a diversity officer at a corporation. I enjoy helping people look at the world in a new way. If I could do that, I would be happy."
When asked for his advice for job seekers who are blind or visually impaired, Belo said:
"You can't embark on the journey of employment without being prepared to be rejected. That's the most important thing. Coming from someone who was sighted who has worked with many students, the career path, and life, are filled with rejection. It's all about what you do with it."
For more information about Belo Cipriani or his book, Blind: A Memoir, visit his website.