Computer Science Major and Intern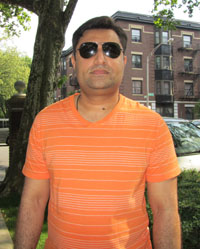 Intro: After losing his sight in an armed robbery Syed Hassan was more determined than ever to become successful. Read about what he is doing to keep moving forward and achieve his goal of gainful employment.
The Story: My name is Syed F. Hassan, I am 32 years old and I am employed as a Web Intern in the American Foundation for the Blind's (AFB) web department in their New York City office in Manhattan.
This is my final year as a student earning a bachelor's degree in computer science from Brooklyn College. Through my state counselor with the Commission for the Blind and Visually Handicapped, last summer I contacted Visions, a nonprofit rehabilitation and social service agency. This is where I found my internship and got the chance to work at the American Foundation for the Blind.
I have also done some short courses online through Curtin University Center for Accessible Technology, or CUCAT. CUCAT is an online center in Perth, Australia and they offer several courses such as ITE, Intro to HTML5, CSS and Intro to Command line Linux. Having the chance to take some of these courses helped expand my knowledge and sharpen my skills. Although I know the importance of both assistive technology and accessibility in the classroom and at the work place, they are still pretty much a new concept for me.
I'm very passionate about my work. I love what I do. My job tasks vary depending on the projects and assignments I am given. As an example, one project I am responsible for is called a "Link Building Campaign". This assignment requires me to contact webmasters of all the sites that are linking to AFB and ask them to make sure their information is current and updated. I also contact sites that aren't in the list of websites promoting AFB's family of sites and encouraged them to link to us as a useful resource for individuals with disabilities.
As hinted above I love technology. The most enjoyable and interesting work I've done thus far has been updating AFB's product database. There were thousands of accessible high and low tech devices to sort through and my job was to add new products and update the old ones. Although this was a tedious process I enjoyed it. Not only has this made the AFB Product Database streamlined and easier to use, it was also a good learning experience for me.
Because I work part time, in order to be more productive, I try to plan my work days in advance. Yet typical work days don't really exist. In spite of my best efforts to plan the days, plans don't always work according to my expectations. Last minute changes or adjustments are almost always inevitable.
This is my very first job after losing my vision several years ago in an armed robbery. Coming back in the workplace has been a completely unique and challenging experience. So far I have had a great time at AFB with plenty of exposure and opportunities to observe real life work as someone with vision loss. AFB has been an outstanding place to work and the people I work with are wonderful.
In my opinion one of the most important things you can do to make work go more smoothly for yourself is to communicate effectively to your supervisor. I think the thing I appreciate most about my supervisor, is how she understands when I have to say that I have never done a certain task using assistive technology before and, therefore, I am not sure whether I can complete the task. I'm constantly learning and she knows I learn better by doing, so she's comfortable letting me problem solve on my own. She is also quite comfortable if I need to ask for help with anything. I think this is particularly important if you are learning new things.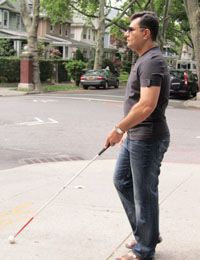 My current job is my third job and the first after becoming blind. In my previous jobs I worked as a receptionist at the dry cleaners and a food preparer at a restaurant. I had both of these jobs during 2005 in Atlanta Georgia. After losing my vision in May 2005, I became home bound for one year due to an injury. Thinking that I would have more and better opportunities, in May 2006 my family decided to move to New York. In 2007 I heard about the Center for the Blind and Visually Handicapped program and how it helps blind individuals. I completed my vocational rehabilitation training and went back to school in 2009. Since then I'm trying to accomplish what I didn't achieve when I was sighted. I'm very pleased with my progress so far. But I know there is still a long way to go.
There are numerous devices I use to make tasks doable, simpler and easier. JAWS, System Access and Non-Visual Desktop Access (NVDA) for my screen reader needs all improve my performance on a daily basis. However, at work JAWS is my primary screen reader. Occasionally I switch between JAWS and System Access because often one seems to work better than the other in certain situations. I also have a braille display, braille note taker and Kurzweil 1000. I think you need all these tools to be productive as a student and an employee.
The reason I love my job so much is that I love technology and anything related to it is wonderful! Being a computer science student I like to experiment with things. Learning new things is fun whether I am writing a program or gathering informational statistics. However, I do get tired and stressed sometimes when I can't figure out a solution to a problem. But I have learned one thing; that is, pushing hard or trying to work out a solution tirelessly doesn't always produce desired results. It's better to take a break and have a fresh mind and relax body.
For someone reading this article that might be considering a career in the field of computer science, something you should know before deciding if this job would be good or bad for you is that it takes patience, focus, determination and resourcefulness. To be more specific, to work the given requirements of my particular job you would need to be able to collect certain information from various websites, organize the collected information and make decisions accordingly so it can be easily used for future work endeavors. You should also be well organized, because whether you're collecting the information to contact someone or gathering the information of a product for your record, you should write down everything in complete detail. It's a good idea to look upon doing this as a challenge within itself and defining your success from the feedback you get from others, usually the people closest to you.
For me, motivation is the key for success in any field. Seeing if you can do what's needed, especially when the task is intricate and challenging makes you a noteworthy, principled worker. This is very rewarding. Always try. Give it your best shot because with the help of assistive technology, you know you can do the work.
The Contact: Syed Hassan