Where Are They Now? A Profile on Oceanographer, Amy Bower
You might remember her from her research and awards or maybe from all of the articles about her volunteer work, but did you know that Amy Bower is also one of APH CareerConnect's mentors?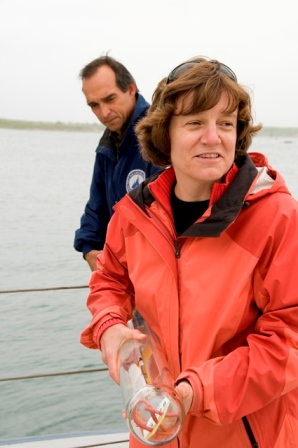 We took some time this month to catch up with Dr. Amy Bower, Senior Scientist in the Department of Physical Oceanography at the Woods Hole Oceanographic Institution, to see what she has been up to lately.
On the work front, Amy has continued to expand her horizons by accepting and graduating her first Ph.D. student, advising her first post-doctoral intern, and undertaking new research projects. She also led oceanographic cruises in 2010, 2011, and co-led one just last year.
Amy also received the University of Rhode Island Distinguished Achievement Award—Dean's Award for the Graduate School of Oceanography last year for her research contributions in ocean circulation and its relationship to Earth's climate system.
"This is the graduate school where I earned my Ph.D.," Amy said. "I believe I was nominated for this award because of my research contributions, in spite of being legally blind, and for my outreach activities, especially OceanInsight*."
The award was presented to Amy at a black-tie gala at the Newport Marriott in Newport, Rhode Island.
"My husband wore a tuxedo, and my daughter and I got all gussied up for the affair, with dressy dresses, pedicures, special hair styling," Amy said. "I was very fortunate to have my mother in attendance, as well as two of my very special mentors from my graduate student days."
Currently, Amy is working on two large projects. In the first project, she is part of an international team of oceanographers who have set out to monitor all the ocean currents between Labrador (in Canada) and Scotland.
"The objective of this project is to measure the amount of heat carried by these currents from the equatorial region, where the sun heats up the ocean, to the poles where this heat is released to the atmosphere," Amy explained.
"We hope to observe these currents for a decade, in order to tease apart natural variations from changes caused by global warming. This project is called OSNAP, for Overturning in the subpolar North Atlantic Program, and the U.S. scientists involved are being supported by the U.S. National Science Foundation."
The second project Amy is working on is in the Gulf of Mexico. Scientists are trying to map the deep currents in the gulf.
"You would think this has already been done based on how close this basin is to the U.S., but in fact it was painfully obvious during the Deepwater Horizon oil spill that we did not know as much as we should about the deep currents," Amy said.
For both projects, Amy will be using acoustically tracked drifters that are set to sink to a particular depth and follow the currents there for up to two years. The teams plan to release over 100 of these drifters in each project.
Amy has also remained active in her organization, OceanInsight, an outreach program for blind and visually impaired learners of all ages. Since founded in 2007, OceanInsight aims to communicate the importance of understanding how the earth works using accessible content, share the excitement of conducting oceanographic research, and introduce students to careers in the geosciences that they might not otherwise consider as open to them.
On the home front, Amy and her husband David have been busy raising their daughter into her teens. However, Amy has found some free time to get back into sailboat racing and begin learning to play the cello.
"I was very pleased to crew for the winning boat at the U.S. Blind National Championships in Newport, Rhode Island in September 2014," Amy said. "With skipper Duane and sighted guides Sol and Dennis, we put in consistently good finishes for two days, enough to 'take home the gold'."
Amy recently showed off her new found musical talent by presenting an informal recital from Suzuki Book 1 for Cello to her friends and family.
"This is super basic stuff, but it has been fun to get back into music," Amy explained. "I like the idea of learning an instrument that I can practice at home. I don't have to try to arrange transportation in order to do it. It's on my own terms. And I'm not trying to get to Carnegie Hall, just keep my brain sharp and enjoy making music."
Aside from sailboat racing and learning to play the cello, Amy is also a member of the Universalist-Unitarian Fellowship of Falmouth, Massachusetts, and she belongs to a spinning (indoor cycling) group.
"This is the first regular exercise program I have been able to stick with for any length of time," Amy said. "The spinning bikes are easy to use and the conversation is always interesting."
Amy is quite the success, and when asked for her advice for students, she said:
"I am a firm believer in Benjamin Franklin's advice, something like "inventions are 10% inspirations and 90% perspirations." It takes concerted effort to be successful and grow as a person, both professionally and personally. Self-advocacy is also important, as well as finding and working with mentors. Maybe most important is finding something you love to do."
OceanInsight is an outreach program for blind and visually impaired learners of all ages founded by Amy Bower. For more information, visit http://web.whoi.edu/oceaninsight/.