Legally Blind Photographer
Intro: Whoever heard of a legally blind photographer? APH CareerConnect has, and we are happy to be introducing her to you. Read about CareerConnect Mentor, Tammy Ruggles, who has found joy and success in all she does by turning her talents and hobbies into a profession.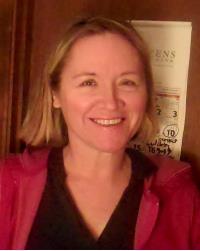 The Story: When the American Foundation for the Blind's CareerConnect program asked if I would talk about the type of work I do I was quick to say "yes". After all, how many blind photographers do we know about? Not that many, so I wanted to make people aware of this great job and how I perform the associated tasks, as well as other jobs I've been successful in.
I've been a professional freelance writer, finger painter, and more recently, photographer. I turned to writing as a second career in 2002, after Retinitis Pigmentosa forced me to retire from social work. Writing had always been a hobby, and I wasn't sure what to do with my life as a legally blind person, but I took a chance on turning my hobby into a career, and it worked. Since then, many magazine and website articles, short stories, and children's books of mine have been published—some traditionally, some self-published.
Art had always been a hobby of mine growing up—sketching in particular. But with RP, my vision worsened over the years, and art became nearly impossible—so much so that I was ready to give it up in early 2013. That's when a Facebook friend suggested I try finger painting, because it was something I could do intuitively. I had my doubts. I'd always been a sketcher, not a painter, and thought my pictures had to be perfect. But I gave it a try, relying on memory, several years of high school and college art classes, and my experience as an artist. To my shock, I discovered that some people thought my paintings were publishable. Some of my paintings have appeared in a few art galleries, while others find a home in art journals or literary magazines. Even though my remaining vision is poor, I realize that my art can be for other people to enjoy, not just myself.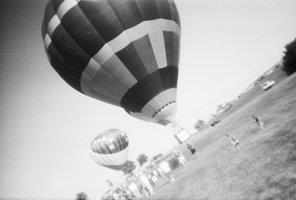 It wasn't until late 2013 that my thoughts turned to photography, which had always been another keen interest of mine; an interest that ,for the most part, I had given up and set aside. Again, I thought photographers needed perfect vision, and photos needed to be perfect in order to be appealing. Whoever heard of a blind photographer? It seemed impossible.
But I decided to experiment giving it my best shot, and my endeavors paid off starting with a simple point-and-shoot camera. With my particular visual impairment, I see best in high contrast, so this is why I prefer black and white. The contrast around me catches my eyes first and is easier to see. This makes it possible to view the shots on my jumbo computer monitor.
I take my camera on nature walks to capture my images, barely seeing my subjects, but knowing I can get a better look at what I've captured once I take them home and upload them to my 47-inch computer monitor. They're all still blurry and hard to see, but it's a bigger blurry, if you know what I mean.
Sometimes I have help getting interesting photos, from whoever accompanies me on my photo adventures. A friend will point out a deer in a field that I can't see, or a patch of moss I just walked past. Sometimes I get help centering a picture or aiming in the right direction.
Photography is an art form that I love. In a way, my camera sees for me. I don't have to see well to capture interesting images. The camera does that on my behalf. And the best part is, photographs don't have to be perfect to be appealing or artistic. The off-center shed or half-face of a puppy may be just the style a publication is looking for.
A typical day of work for me starts in the morning when I wake up. After a light breakfast, of bacon, toast, and coffee, I go to my computer and do an online search for publications accepting submissions of writing, art, or photography. If I have something that fits their needs, I'll send the publication a query letter describing what I have.
Other mornings instead of going to the computer, I get my camera and go outside for a walk, snapping as I go in order to capture new images; dark branches against a light sky, a shining rooftop against dark clouds, a dog that has decided to follow along or maybe dark fences standing out against white snow.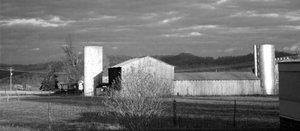 After I take a bunch of photos, I take my camera home and upload the images to my computer, where I can get a better look at what I've captured. I delete the ones that seem to have no contrast, or seem boring to me, and save the rest in a folder on my computer, or upload them to an online portfolio for people to view. Then I check my email for replies to my queries. If a publication likes an article, a finger painting, or a photo, we talk about the terms of publication.
I do this professionally, but my hours are flexible. I'm always looking for new opportunities, and I use the internet a great deal to find them.
It's a nice feeling to be able to turn talents and hobbies into a profession.
Sometimes I have people who will go with me on a photography adventure, but mainly I work with editors of publications that are responsible for gathering and organizing content for their readers. They want to put together the best publication they can, and I like being a part of that. Most if not all are professional, open-minded, and pay close attention to detail.
After retiring from social work, I wondered what I would do vocationally. Social work had been a chosen profession. I'd always wanted to be a writer, but never thought seriously of trying to do it professionally. It had always been a hobby. So with nothing to lose, I went looking for opportunities to publish my writing.
Since I'd been a social worker for about 10 years, it was the world I knew upon retirement. I had a Bachelor's degree in social work, and a Master's in Adult Education and Counseling, so I took my work experience and used it as a foundation for writing articles, realizing that I could still help people, just in a different way. I wrote self-help articles, parenting articles, and social issues articles. In my case, social work was a springboard for my writing career. Later I began to write more creatively. I now have in my portfolio short stories, children's books and more. Today I still write very social workish things, but that's just one area of all I write about.
Today's technology makes it easier for me to be a writer, artist, and photographer. I use a combination of accessibility features to do my work and art, from the 47-inch computer monitor I mentioned earlier, to the simple point and shoot camera I use for photography. Sometimes I enlarge my fonts to a giant size, or use magnification software, while other times I use screen readers that reads a long passage out loud. I love audio books too; both producing them and listening to them. I'm learning more and more how to transition to speech recognition software, as my vision declines. I use whatever I can to make it easier to see the work I have to do. Also, for mobility purposes I use a white cane although the thought of a dog guide has crossed my mind before.
What I like most about my job is that I receive compensation for doing what I love—just as I had done as a social worker. I like the feeling of purpose, independence, and fulfillment this work gives. I can't think of anything I dislike about what I do, unless it would be filing taxes for earned income each year, lol. That, and writing super long articles, say, over 1000 words. I prefer the shorter ones, but will write them of any length.
My advice to anyone considering a career in the arts, visually impaired or not, is to believe in yourself, take a chance, and keep trying until you succeed. Don't let fear of failure hold you back since often this is how we learn. There were times I thought of giving up, or not even trying, because I thought my visual impairment would hold me back, or I worried about what other people would think of me and my work. In my imagination I could hear them saying, "What? A legally blind artist? A legally blind photographer?" But if you really have your heart set on something, push yourself a little, and good things will happen.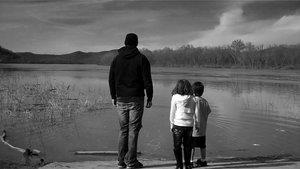 Besides me finding different ways to do the things I love, my hope is that others will also find different ways to do the things they love and even turn it into a profession if that is where their heart is.
The Contact: Tammy Ruggles
Tammy's online photography portfolio
Tammy's writing can be found on Amazon:
www.amazon.com/author/tammyruggles