Seeing Beauty from Another Angle: Visually Impaired Collage Artist, Will Ursprung, Shares His Process
Mixed media collage artist, Will Ursprung finds art in some pretty peculiar places—on the side of the road, in and around dumpsters, in alleyways, and salvage yards. He collects broken, discarded pieces of steel, wood, old newspaper, and magazine clippings and assembles them into a collage. He takes these forgotten pieces, parts of the whole object they once were, and plays around with them until they create the impression he's going for. To achieve the proper aesthetic, a brassy or vintage finish, Will may bleach or dip certain metal scraps into vinegar. In a series of cutting, layering, overlapping, and repositioning, the collage becomes art. One man's trash is truly another man's treasure—and ours—in this case.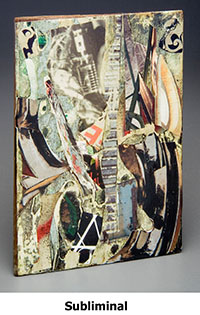 Will Ursprung was born prematurely in 1952 in Pennsylvania and diagnosed with retinopathy of prematurity. His parents were told that, like the other premature infants in the nursery, Will would be completely blind for the rest of his life. Luckily, they were wrong. While he is legally blind, his reduced vision does not affect his process or practice and has never been a cause for slowing down his mission with art, art education, or art therapy. He may not hold a driver's license, but for what he's doing, no car is needed.
Will's journey with collage art has been a dynamic one. Like most creative spirits, he felt a pull toward artist expression from a very young age and continued tapping into new outlets throughout his career. He received his degree in Art Education from Mercyhurst University in 1976 and went on to receive his degree in Art Therapy from Hahnemann Medical School, now Drexel Medical School. From there, Will was ready to put his own art on hold while he shared the impact of art therapy.
Over his 35 year career as an art therapist in Eagleville Hospital and Graterford Prison, Will worked with all types of patients from all walks of life with varying interest and exposure to art. He introduced art to men and women that had never lifted a paintbrush before in their lives that were now tapping into raw talent. He got to watch their powerful transformation as they found a new holistic form of expression; a way to channel the many emotions—good and bad—circulating in and around them. He will tell you that, even though his workday was not dedicated to producing his own art, he learned the most about the value that art holds in our world during this time.
"As kids, we believe we are all artists. We color and paint with our fingers and experiment with clay and different mediums. We let our creativity soar. Then, at some point, society tells us we are not artists anymore," Will said. "Once you get past that inner critic, you let loose, and you start to say things in pictures you couldn't possibly say with words."
He watched how art can salvage and repair what society might otherwise deem a damaged or irreparable human being.
"I can say that art saves because I've seen it," Will said, reflecting on his experience working with life-sentenced inmates at Graterford. "When you're surrounded by positive things, like art, you don't have time for negative thoughts or actions. So many of the guys in Graterford never knew they had talent but maybe, if they had been involved in the arts, they may not have ever found themselves in prison."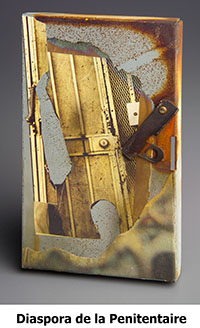 Now, retired from Graterford, Will has more time to work on his own collage art. His inherent appreciation for the found object, or objet trouvé, continues to take him to curious paths into and around the city. On collection days, he'll set out with his backpack, hop on public transportation or paratransit, and arrive at his key destinations—the salvage yards around Gilbertsville, reliable second-hand and thrift stores, long walks along abandoned roads, and car junkyards. Whatever he can fit in his backpack or carry home is fair game.
To double check the number of a bus or read a sign along the way, Will has a handheld telescope for magnification. However, while sifting through scraps, shards, and other potential art materials, Will relies on his remaining eyesight to guide him, and it's never let him down. Maybe he'll go into the day with an idea of textures, colors, sizes, or dimensions of metals, wood, or other mediums that he hopes to use in the next collage, or maybe he will give in to pure luck and see what crosses his path.
"Like jazz, collage is very spontaneous and intuitive for me. From the first time I encountered collage, I took to it immediately. With my limited vision, I find that it's one of the most approachable forms; it's three-dimensional, it's visual, and it's still unique."
Clipped, singed, and overlapping, Will's work preserves messages from the past for today's world.
Will Ursprung is the Director of Development for the National Collage Society, and his work has been featured in many exhibits around the country. Just recently, he was one of 96 artists, selected from 316 applicants, to be featured at the Sebastopol Center for the Arts Exhibit in California.
Like other collage artists, he knows that his pieces are unique and cannot be duplicated. "That's what is so cool about collage," Will said. "The combination of found materials cannot be reproduced; each piece is one of a kind."
"Seeing Beauty from Another Angle" was written by Francesca Crozier-Fitzgerald for the American Foundation for the Blind.