Profile of Holly McKnight, Volunteer Tour Guide at Esther's Place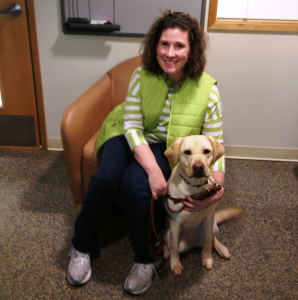 Why would a person work for free? Meet Holly McKnight and learn about the many valuable rewards and benefits one gets for their volunteer service to others. You may be greatly surprised.
Hello! My name is Holly McKnight, and I am a volunteer tour guide at Esther's Place at the American Foundation for the Blind in Dallas, Texas. Esther's Place is our most compelling feature at the Center on Vision Loss (CVL). It is a 1,800-square-foot fully furnished model home designed with accommodations for vision loss in mind and over 500 products available for hands-on demonstrations. Our goal is to help visitors discover ways to enhance their ability to live as independently as possible despite the loss of vision.
Almost four years ago, while attending a workshop about accessible cell phones, I found out that people gave tours of Esther's Place. Being someone who likes to be involved, I asked if I could help. I met with the Independent Living Associate, whom I had actually known for a number of years, and asked what I needed to do to become a volunteer. We talked a bit and then she told me that I could start working that Friday. I was so excited even though I had no idea what a great choice working at AFB would turn out to be.
My vision is what is commonly referred to as low vision. I do not have depth perception or peripheral vision, but I can still read large print for short periods. My preference, however, is audio or braille. When I started working, I was asked if I was comfortable enough with my braille skills to label information cards that would eventually end up on display in Esther's Place. These cards are given to visitors so that they may order products or services that are explained on the cards. I was glad I had the necessary skills to braille these cards.
I'm told that I have excellent telephone skills and a friendly personality, so another task I was taught is to answer the main phone and transfer calls all over the building. I am also able to answer questions as a person with low vision. As a dog guide user, I can also converse about how using a specially trained dog as a mobility tool works and the responsibilities involved. My dog, Tyra, simply sleeps under the front desk while I am there, and she waits quietly while I conduct tours throughout the building. Tyra is my fourth dog and we just completed training together. She is adjusting well to AFB.
There is a computer at the desk where I work that has an assistive technology (AT) software program on it called JAWS which stands for Job Access with Speech. I type very well, so I do not need a dictation program that will translate spoken words to written text. These programs are largely used by people who have difficulty using their hands, but others use them too. Rather, I need a text to speech program that reads what is on the monitor.
One other thing that I almost forgot about is the fact that I now use both an iPhone and iPad. Apple is one of the few companies that I know of that has built accessibility into its products from the start. In other words, it is not necessary to have third party programs installed to make their products usable by someone who is blind or visually impaired. This is very nice, as it is rare and if you are the "texting queen" like some in the office say I am, you need that accessibility.
Working at AFB has improved my confidence level in my blindness skills, and I have met a lot of great people. I have formed friendships, and I hope that I can help people who come to our center for services along with those who actually work in our organization.
Of course, like any job, this job does have its drawbacks; the biggest of these is the fact that transportation to and from work can be an issue for me. I live more than twenty miles from AFB, and because Arlington does not have public transportation, I have to rely on family members to drive for me. I appreciate that they are willing to do this, but this is not ideal and I realize that this may not always be the case. In the future, if I don't find a good job near my home the only other option is to move to where the job is. That's the choice we all have to make as visually impaired workers.
I also wish that I could work at AFB for pay, but because we are a nonprofit, this is not possible for now. However, I realize that pay comes in other forms besides monetary. Volunteering has given me more confidence and opened up a whole new world for me. I now know how an office works and understand the many different responsibilities and tasks each employee does. Volunteering has also given me a good understanding of what is needed for a person with vision loss to succeed at their job. As mentioned, I have had the privilege of seeing people helped by what we do and all of my interactions with others have enhanced my people skills and is helping me to create good leadership skills too. Meeting all of the different people over these last four years has created an important network for me that I will use to find the best jobs out there. And, since volunteering often leads to paid positions, hopefully, there will be one for me here. But, if not, all that I am learning will pay off by making me a better job candidate and employee.
It does feel wonderful though to know that I am making a difference every time I go to work. People who are blind often feel that they cannot contribute to society in the same way as their sighted peers, but, it is definitely possible to give back. Probably the biggest and best way for me to give back is by listening and understanding a client's situation, and making suggestions that they can follow. I've had the chance to see people who have come into our center not knowing where to start, and after a period of time, I will see them again and their lives have changed for the better. Knowing that I may have played even a small role in something that has had such a positive impact on others is a great feeling. It means a lot.
If you would like to get involved, please read this helpful information on volunteering at the American Foundation for the Blind. You'll be glad you did.