Independent Motel Owner and Operator
Hospitality is a big, thriving industry where one can earn a good living, meet people from all over the world, climb the ladder of success and have fun doing it. Like CareerConnect Mentor, George Robins, of Napanee, Ontario you might even end up owning your own motel! Read his story to learn how he did it.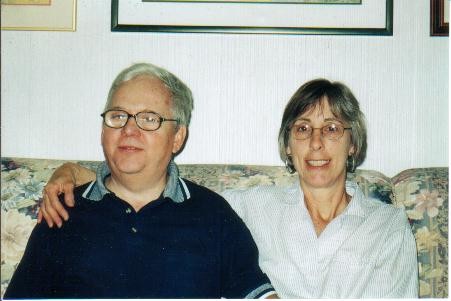 I am George Robins and I worked in the hospitality industry for many years. I'd like to introduce myself by sharing a bit of my background as it will give you some insight for how I got to where I am in life today.
Although born with Retinitis Pigmentosa (RP) and congenital cataracts, early on there was enough central vision that I was able to drive a car for about five years. Eventually, the tunnel vision and night blindness that accompanied the RP left me unable to drive at all. When I was twenty-one I became registered as blind (or, legally blind) and my sight continued to drop until today I have almost nothing left.
Shortly after I became registered blind I began working for CaterPlan Services, a division of the Canadian National Institute for the Blind (CNIB), in tuck shops, newsstands and coffee kiosks. At the age of twenty-two I was given the opportunity to take a three year Hotel Restaurant Administration co-op course with work during the summer and a job with CaterPlan when I graduated.
I continued with CaterPlan in a management capacity running a 24 hour a day 7 days a week coffee shop for several years. There were 5 registered blind employees working under me. While my visual field continued to shrink, I still had enough acuity left to do the bookkeeping, payroll and ordering and it was a good thing because computers were not yet available to assist those with sight loss. In 1982 the government allowed the hospital where my business was located to restructure property to generate income. CaterPlan lost the contract so I was transferred to manage a news stand in another hospital. My eyesight was really dropping at this time so I had the lady on the afternoon shift do the books. However, I used a tape recorder to continue making up the ordering of goods.
In 1984 my first wife and I split up. Since my 11 year old daughter lived with me I decided to re-mortgage the house and buy my wife's share so that we could stay put. However, the overhead was just too much and a year later I sold the property and bought a new home for less money in Oshawa, a city 40 miles to the east and commuted to work.
Then, I met Sylvia and three years later we married. We took a second mortgage on our home and bought another house. When it was rented, we took a second mortgage on that one and bought a third house. For years we had them all rented which provided income to pay for them.
CNIB was phasing out their CaterPlan division so in 1989 as they were winding down the business, my wife, Sylvia, and I decided to quit our jobs and make a big change. Sylvia ran an ECG department at a clinic in Toronto so this was a big deal for us both. This big change didn't happen overnight though. We knew for several years that my job was being phased out and Sylvia thought a change out of the city would be good. Since I grew up in a small town, I also looked forward to the move. In preparation for this move we travelled around Ontario with friends and by bus checking out all sorts of businesses to buy. The Napanee Motel was the perfect fit and the price was right. To make the down payment we sold two of our three houses. The motel was in a small town with everything within walking distance or a short cab ride as neither of us drove. Sylvia was sighted but living in Toronto she never had the desire or need to drive.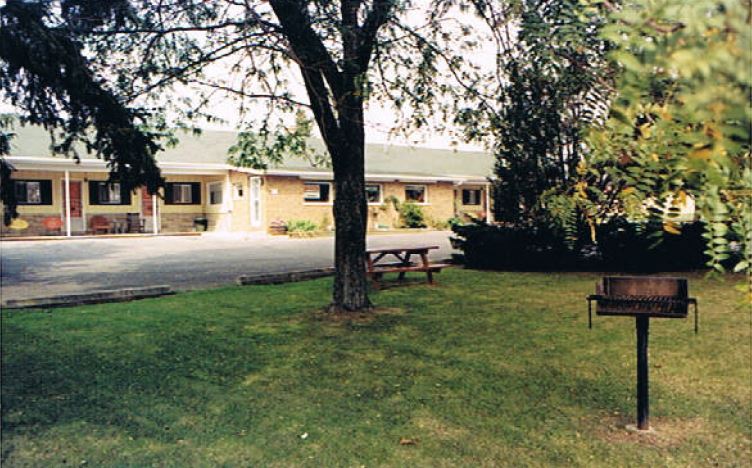 The two of us began operating the Napanee Motel in July 1989. The next year we bought a 14 foot French fry trailer and put it in front of the motel. I ran it from lunch until evening. By doing this we got to meet more of the local people as the motel business dealt with mostly out of towners. A few years later we sold and replaced the trailer with a built on addition to the front of the motel which we used as an office and store/gift shop where we sold convenience items, confections, collectables and souvenirs.
It was hard work being a seven day a week job where we had to be there most of the time but we enjoyed what we did. Having a routine where we cleaned out the rooms together made things go more smoothly. When that was done I did the office work, books, reservations, check ins and outs, ordering supplies, dealing with invoices and any other office matters. Sylvia got the rooms ready to rent, did the laundry and ground maintenance. Afternoons were spent gardening in the summer and snow shoveling in the winter. Since the back yard was about 70 ft X 125 ft we made the garden beds by laying railroad ties and filling them with top soil. This was not only a good base for growing things but it gave me the ability to navigate and work the gardens by myself.
To assist with my work in the office I used a computer with JAWS and a talking calculator. A scanner that ran through the computer made paper work possible. There were many disasters over the years with some unsavory customers but we survived them all. I enjoyed meeting people from all over the world. Many customers became friends and some I keep in touch with even today.
Over the years we became involved with the community by volunteering for different events in town. For example, a yard sale was held once a year in June and we would give use of our parking lot to support the CNIB. For six years I served on the Kingston CNIB Board of Directors as honorary treasurer and for another six years served as Director for the Napanee District Chamber of Commerce.
After eighteen years we sold the motel and retired to a century home we had purchased ten years earlier for this purpose. Once retired we continued volunteering at a radio station in a nearby town where we had a 2 hour on air slot every Sunday evening. That show ran for seven years. It was a 50's -60's rock and roll request and dedication show. I was Rockin' Robin and Sylvia and her sister were the Tweeties. My job was to run the fader board, cue up the music and be the on air presence. The Tweeties read event notices, weather and selected requested music. All three of us had a good time doing the show and found it a great way to stay busy and involved. On Feb 22, 2009 while on our way to do our show a drunk ran a red light and hit us. Very sadly, Sylvia was killed.
Today, I still live in and enjoy the century house we bought and keep as active as possible. My house is a two storey brick home built around 1895. Sylvia had many gardens around the property, but I couldn't keep all of them up. I now have about five beds. The neighbors have put chain link fences along both sides and the back is opened to a large park. I put a row of large rocks along the back so I wouldn't wander into the park and I am putting a row of burning bushes across the back line. All of this is helpful for me to freely navigate and enjoy the yard and gardens.
The hospitality industry can be very rewarding and there are many jobs to be had. The amount of comfort and enjoyment you get from your job may depend to some degree on the amount of vision you have be it in a small motel or a large hotel. For example, if you have to do a lot of walking and navigating from place to place like a bell hop does, you might prefer a different position. Most small and medium size motels are usually family-owned and operated while large hotels are operated by a corporation.
I'm sure you know, there is much technology and software to help people with vision loss succeed at work and life. If the hospitality industry is your interest, having the accommodations you need and being compatible with your working partners are two critical keys for promoting success.
The Contact: George Robins