Interview with Michael Peters, Tournament-Based Fishing Angler
By Detra Bannister
APH CareerConnect®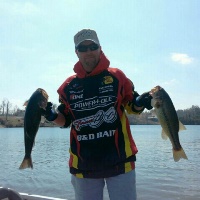 Hello, Michael. We at the American Foundation for the Blind are so pleased that you have decided to help and encourage other visually impaired persons by becoming an APH CareerConnect® Mentor. There is no doubt that what you do for a living and how you do it successfully is of great interest to many and we appreciate this opportunity to interview you.
Q: Okay, for the first question I'm going to start off with something fun. I have to ask, what was the largest fish you ever caught?
A: I would have to say the largest bass I have caught was a 6.96 pounder.
Q: For those in the audience who may not know, please tell us what being a tournament-based fishing angler is and how did you get into the business of angling?
A: A tournament angler is an individual or team that competes against other anglers to see who can get the heaviest bag of bass with a limit of only being allowed to bring back five bass to the weigh in. Also, most tournaments have a side pot called "big bass," and the individual/team that catches the largest bass wins this. Most tournaments give you 8 hours of fishing time. You can't use live bait. You use lures and soft plastics designed for bass fishing. My father got me into fishing and then I decided when I felt comfortable, I took the next step into tournament fishing.
Q: Please share with us an experience during competition that you consider second to none.
A: Woo, there are so many. But the one that stands out the most would be the first time I went to fish a tournament on Percy Priest Lake in Smyrna, TN. I'd never fished this lake before and didn't have any time to go do any pre-fishing. My father and I went out and got only four keeper-size fish. We looked at each other and said, "Well, we did the best we could. Now let's head in to weigh in." After weighing in, we ended up with a third-place finish. We didn't expect that knowing we had never fished this lake before. To get my first-ever top-10 finish and to have done it with my father…PRICELESS!
Q: You developed a low vision status several years ago due to glaucoma. Once you received this diagnosis, did you also receive the information and encouragement you needed to move forward?
A: I did.
Q: From whom did you get this crucial information?
A: I received my information from my eye specialist, Dr. Jeffrey Kammer, and the wonderful staff at Vanderbilt Eye institute in Nashville, TN. The encouragement came from everyone: family, friends and coworkers.
Q: What information were you given, what was most helpful and what were your next steps?
A: The information given was the pro versus the cons about taking the steps to save my vision. I'd say what was most helpful was that Dr. Kammer was one of the most trustworthy doctors I've ever known. He told me how it was going to be and didn't sugarcoat anything. The next step was to schedule the surgeries and wait for the outcome.
Q: To be successful, those of us with vision loss must learn adaptive techniques to perform daily tasks both on and off the job. What adaptive techniques do you use to compete in fishing tournaments?
A: I have had to adapt and change a lot of my techniques while fishing in tournaments. Sometimes I would change the way I angled the boat so I could still see my fishing line so I could tell when I received a bite. Now when a tournament starts, I head in the opposite direction from the sun coming up so it doesn't blind me. I have learned to feel for the bite on my rod instead of always watching my line. This has gotten me into using a more sensitive rod. I am now looking into using a fishing line that has a color to it so it's easier for me to see while it's in the water. To this day, I am still adapting and making changes to improve my performance in a tournament.
Q: What is your favorite adapted tool or piece of technology that you use both for fishing and daily living?
A: My sunglasses. They are the ultimate tool I use while fishing and for daily life. They are wind-resistant safety glasses, UV coated to protect my eye with the remaining vision and they also have my eye prescription built in. And I look good in them! (Sorry, had to make you laugh.)
Q: Anything else?
A: On my computers at home, I do use the increased font. At work, they have gotten me a larger computer screen, which helps me. I use an iPad when traveling to tournaments and I use a Zoom Text app on it to help me see the words. As for my phone, I was using a talk-to-text/text-to-talk program. But for some reason, when I would talk and the phone would send it as a text… woo, it didn't come out as the same thing I had said. (lol) So I am still trying to find a better program for that.
Q: What is one resource that has been most helpful which you wish you had known about earlier in life?
A: I wish I would have known about the American Foundation for the Blind (AFB) sooner. I say that because I wish I could have had the opportunity to talk to someone—perhaps one of your mentors with the same issues that I have.
Q: Who was your mentor (role model) and why?
A: My role model would have to be my father. My father has always been there for me. He raised me to respect others and to work hard at what I want in life. Now my role model in bass fishing would have to be Mike Iocanelli. Why? Because he's crazy like me when out fishing. He doesn't care what others think and he fishes the way he wants to.
Q: What advice would you give to others going through the journey of vision loss you've traveled?
A: NEVER GIVE UP…NEVER GIVE UP. I can't say it enough. It's not an easy road and things will seem to be falling apart. Lots of stress. But you've got to remember there is help out there and others to talk to. So, once again, whatever you do, just don't give up. NEVER GIVE UP.
Q: Is there anything else you would like to share with young people or adults new to vision loss about your experiences or your life (past or present)?
A: The thing I learned after losing sight is that, yes, things did change. Life does change. Take your time to adapt to the changes. I remember my first experience as a low-vision driver. Woo! Was I scared and freaking out. It's a huge difference going from two good eyes to having less than half of what you had. Just remember we are always going to have to adapt to new things. Just take your time.
Q: What is one piece of advice you would provide to parents of children with visual impairments or blindness?
A: I would say that if your children want to try and achieve something, "a new goal" or whatever, don't let them think that just because they are visually impaired or blind, it doesn't mean they can't do it. Give them the help they need. Believe me, if I end up going from visually impaired to blind, I'm not going to put my rod and reels down. I'm going to keep fishing. I might have to give up on driving the boat, but not on fishing.
Q: Were you always comfortable with your lack of vision or did it take time and training to become comfortable in your own skin again?
A: I kept such a positive attitude and I wasn't going to let it defeat me, so I'll say I was comfortable. I never let it get me down. I think a lot of it came from my doctor just being so honest and with the support of my family.
Michael, thank you very much for taking time to discuss these important subjects with us. We congratulate you, wish you the very best, and hope to see you around for a long time to come!