Where Are They Now? A Profile of Visually Impaired Nurse and Blogger, Audrey Demmitt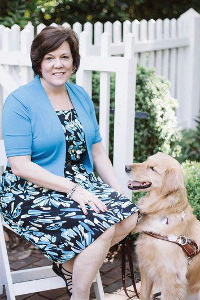 If you are a frequent follower of AFB blogs, you probably have heard of Audrey Demmitt. But did you know that Audrey worked as a nurse for 30 years before she became a writer? Better yet, did you know that Audrey is also a mentor for APH CareerConnect?
In honor of the upcoming National Nurses Week, we decided to take some time this month to learn more about our treasured peer advisor, Audrey Demmitt, R.N., BSN, to see how she is inspiring others through her continued workplace and personal success.
---
After graduating from the University of Arizona, Audrey was on the fast track to finding workplace success. She had earned her degree and landed her dream job at a hospital, but life took an unexpected turn when she was diagnosed with retinitis pigmentosa. Audrey, 25 at the time, struggled with accepting and adjusting to her vision loss. She didn't want to lose everything she had worked so hard to achieve, so she tried to hide her vision loss from her employer.
"My vision loss is a progressively degenerative condition and so for years, I chose to hide it from my employers and co-workers," Audrey explained. "It was stressful, always worrying about whether someone was going to discover my vision loss and if I would lose my job."
In the early stages, Audrey continued to work at the hospital. She and her husband started a family, and she tried to imagine a world where her vision would stop deteriorating. Unfortunately, Audrey continued to lose her vision over the next few years making it more challenging to perform her job responsibilities.
"Often, it was difficult to function with low vision in settings that were fast-paced, that had low lighting, and working with machines that had dials and knobs which I could not read clearly. There were certain tasks that became difficult- visual inspections of skin, wounds, throats, ears, eyes, paperwork and forms, and eventually documentation on the computer."
"As my vision worsened, I changed to jobs and job settings where I thought I would be able to function safely. I transitioned from the hospital, to doctor offices, and finally to school nursing," Audrey said. "It was very sad to leave the hospital setting because I loved working in the neonatal ICU. I was afraid about finding another job that I could do comfortably and safely with my level of vision. I also felt like any other job would be "less" of a job and I would be "less" of a nurse. But a job was a job, and I could not be too picky."
Finally after years of hiding her vision loss, Audrey could no longer keep it a secret. She was having trouble getting around the workplace and could no longer do computer or paperwork as a school nurse. It was time to disclose her disability.
"I knew I was going to need accommodations and tools to continue my job," Audrey said. "My boss was very supportive. Teachers, staff, and even parents were supportive. By then, I had established a well-run clinic and had proven myself to be a knowledgeable and caring school nurse. The students even took it all in stride and became more involved with their own care and helping me in the clinic."
Life started to look up for Audrey. She received vision rehabilitation services, started using a white cane, and learned how to use a video magnifier at work. She explained these tools and her vision changes openly to coworkers and students and finally started to become more comfortable with her vision loss.
"My last two years at the school, I brought my guide dog Sophie to work with me. She was of course a huge hit with everyone! I did presentations in the classes about blindness, guide dogs, and disability awareness, and Sophie contributed significantly to the school community too. After I got my video magnifier at work, I could do most work tasks independently. Every once in a while, I asked to consult with someone or requested sighted assistance, and my coworkers were always great about helping me."
"I came to realize the important impact my role had on students and their families as well as the teachers and staff in the school community. School nursing today goes far beyond pushing pills and putting Band-Aids on boo-boos. It is an opportunity to teach children and families how to prevent illness, practice wellness, eat healthy, take care of chronic health conditions, reduce stress, and manage emotional health. I loved the health education aspect of school nursing and the holistic approach to caring for students and their families."
Although Audrey explained that her career trajectory was very different from what she had envisioned or planned, it was satisfying and meaningful to have worked as a nurse for so many years. When asked for her advice for blind or visually impaired students interested in pursuing a career in healthcare, Audrey said there are many careers that can be done with little or no vision.
"I recommend they consider all the allied health fields in the human/health services: occupational therapy, physical therapy, psych nursing, child life specialists, public health jobs, social work, or speech pathologist. Most of these can be done safely with reasonable accommodations."
Since retiring as a school nurse, Audrey has discovered many ways to share her story and help others struggling with vision loss. She is the founder and facilitator of Envision, a support group in her hometown, and she has started a personal blog, Seeing Possibilities. She occasionally speaks for groups like the Lions Club and local schools, presenting on blindness, guide dogs, service animal etiquette, and disability topics. She recently presented "Promoting Positive Retirement with Vision Loss: A Holistic Approach" at a professional conference on aging and vision loss. She also finds time to donate blood regularly at Red Cross Blood Drives, and she is volunteering this summer at the Hull Park Retreat Center for the Blind and Low Vision.
On top of all that, Audrey is also an active Peer and Support Group Advisor for VisionAware. She writes blogs and answers message boards on topics related to vision loss and aging. She has written a series of articles on diabetes and vision loss and other health related topics.
"When I first retired, I was quite concerned about being bored and isolated, and I did not want to give up nursing, which has been a significant part of my identity for so many years. It was terrifying to think that I would not know how to fill my days! So, I set out to avoid this by pursuing many new activities," Audrey explained.
"The most exciting thing has probably been getting involved with Ski For Light– a program for people with vision impairment to learn to cross-country ski. This program helps people with vision loss realize that the possibilities are endless and even with our disabilities we have many valuable abilities. It has been very enriching and rewarding. I have made many new friends through my participation and am constantly motivated and inspired by them."
Audrey has really turned things around since she discovered her vision loss. She learned how to accept it, seek help and adjust, and finally disclose her vision to her peers. From a successful nursing career to an active community member, this soon-to-be grandmother is on top of the world. Her story goes to show that despite your disability, you can achieve your goals.
When asked for her advice for students entering the workforce, Audrey said:
"Get the necessary training and education and then don't sell yourself short! Believe in your preparation and present yourself confidently. People will take their cues from you. Know your rights and know your tools and accommodations that will help you perform your job. Volunteer, intern, or shadow professionals in places that give you exposure to what you are interested in doing and so others can get to know you and observe your abilities. Often these experiences can help land you a job."