Where Are They Now? A Profile of Visually Impaired Doctor, Joe Fontenot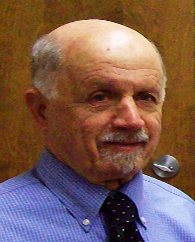 You might remember him as the successful cardiologist or maybe you know him as the Medical Director of Community Services for Vision Rehabilitation in Mobile, Alabama, but did you know that Dr. Joe Fontenot is also a long time mentor of APH CareerConnect?
We decided to take some time this month to reconnect with our friend and mentor, Dr. Joe Fontenot, M.D., CLVT, to see how he is continuing to achieve workplace success.
Dr. Fontenot started his career as a medical doctor almost 50 years ago, and while he explained to us that he is semi-retired, we know that his work is never finished. After working as a cardiologist for years, Dr. Fontenot decided to transition into the low vision field as a result of his first-hand experience with vision loss caused by macular degeneration.
"I became visually impaired at age 50, but I continued to work as a cardiologist for 14 years," Dr. Fontenot explained. "I was able to do that because I accessed all the things we try to make people aware of now- assistive technology. When I was about to turn 65, I decided to go into this field. I realized that most people who have vision loss didn't know this technology was available, so I decided to start a low vision practice."
When Dr. Fontenot realized the great need for this new practice, he began preparing to help those with vision loss. He joined different kinds of blindness organizations, attended low vision meetings, and studied to become a certified low vision therapist. In 2003, Dr. Fontenot turned his dream into reality by founding the Community Services for Vision Rehabilitation (CSVR) in Alabama. His mission was to provide help and assistance to those with low vision.
Dr. Fontenot explained that the CSVR clinic is set up to provide professional care in collaboration with state agencies through evaluation by a medical doctor, optometrist, occupational therapist, ophthalmic technicians (OMIT), and computer specialists. Their goal is to provide better access to care and improve the quality of life for individuals living with vision loss.
"The biggest problem for individuals who are visually impaired is that they do not receive education about all the resources and help available," Dr. Fontenot said. "There are several reasons for this. One is that many eye doctors are not referring patients to rehabilitation services. Approximately 10 to 20 percent of people with vision loss actually reach low vision services."
By taking advantage of the available services, individuals with vision loss will lessen the negative effects of low vision and continue to maintain their independence. If you are experiencing blindness or visual impairment, find out what services are available in your area by checking out the AFB Directory. We at CareerConnect agree with Dr. Fontenot; the best way to overcome your vision loss is to reach out to those services specifically designed to help you.
Dr. Fontenot explained that many individuals are reluctant to discuss their situation. It is difficult to get them to pick up the phone and reach out for help.
"There is a great need for people to be aware of what is needed for those with vision loss, and there are many organizations out there, including AFB, who are doing a great job," Dr. Fontenot said. "There is a lot more that can be done for people who are blind or visually impaired than ever before."
The CSVR and Dr. Fontenot also work diligently to provide educational materials and seminars for those individuals and organizations that are interested. In fact, the CSVR is currently working on a video project to increase the amount of materials available for the vision rehabilitation community.
Although Dr. Fontenot explained that running a low vision medical clinic is a stressful job, he said it is emotionally rewarding to help individuals regain their independence.
"I think the most rewarding thing is actually seeing the patients become aware of all the things they could be able to do and achieve them. They are always very grateful for what we try to do for them."
Aside from his extensive work in the clinic, Dr. Fontenot is also a chairman of the American Academy of Ophthalmology Vision Rehabilitation Committee.
It is evident that Dr. Fontenot is a success, and when asked for his advice for blind or visually impaired students interested in pursuing a career in the medical field, he said:
"I think they can do it. They have to be realistic, but medicine is a large field and in that large field you can certainly do it. It will require some work, but they can, with proper training and devices, be able to achieve a career in the medical field."
Are you interested in learning more about Dr. Joe Fontenot's work? Discover how you can get involved and support the Community Services for Vision Rehabilitation clinic.