Middle School Educator and Mentor: Shaping Minds and Changing Lives
Meet Brian Quintana, mentor for APH CareerConnect, the National Federation of the Blind, and an exceptional educator in the uncommon position of being blind and teaching sighted middle school students. How does he prepare for and maintain control of his English and Social Studies classes? Keep reading to find out more!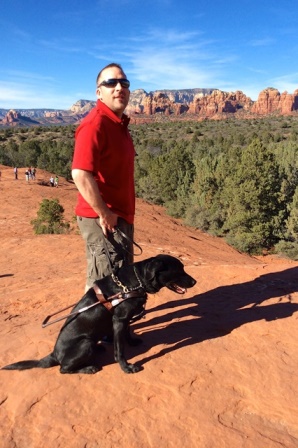 Editors Note:
"The best thing about the future is that it comes one day at a time." This quote by Abraham Lincoln seems very fitting when I think of Brian Quintana, an outstanding sixth grade English and Social Studies teacher. We met years ago at the Seeing Eye while we were there getting our first Seeing Eye dogs. He was 18 then, a fresh high school graduate, and I was 25 years older. An unlikely pair of friends we were.
During that summer of 1999 there were mostly young students at the Seeing Eye and it was quite the noisy and very active place to be. Most of us older folks sought each other out as an escape from rambunctious out-of-school youth, as did the young people, hoping not to be bored to death around us old folks.
However, Brian was different, someone I liked right off the bat. He and another 18 year old, Heather Brenton-Pye, were exceptional young people and I was very impressed with them both. They had so much energy, were curious about many things, had excellent social skills and manners, looked forward to the future and what it held for them, had great O&M and other blindness skills, interesting life experiences and wonderful senses of humor. For whatever reason both of them seemed to love teasing me and picking my brain about this, that and the other. I very much enjoyed the interactions and enthusiasm and hopefulness they shared with everyone.
Unlikely as it may have seemed we did become good friends. When we left the Seeing Eye I kept both of these people in mind often wondering how life would turn out for them. Whatever was to be, I was sure it would be good. Thankfully, we have stayed in touch on and off through the years and it has been a joy for me to see both of these folks mature and settle into a wonderful adulthood where they are giving back so much to society. It is my pleasure to introduce you to Brian Quintana, an old friend and wonderfully successful educator.
Detra Bannister, Our Stories Editor and CareerConnect Program Specialist
The Story:
Hello, I'm Brian Quintana and I am a sixth-grade English and Social Studies teacher. Although no two days are the same, a typical day for me begins at 5:30 A.M. After taking my Seeing Eye dog, Bethany, out and feeding her, I put the coffee on, fire up the computer to check emails, and throw something quick together for breakfast. I'm usually straightening the knot on my tie as I head out the door to work around 7:00. Even though the 1st Period warning bell rings at 8:33, I try to be at work an hour early to prep the classroom for the day. This prep usually means passing out graded work, photocopying, setting up the materials for the day, getting my lesson plans ready and fine-tuned, and catching up with the latest school gossip from the small group of students hanging out near my room.
From the moment 1st Period begins, it is a non-stop rollercoaster of activity until 2:55 when the school day for the students ends. The crazier days have me answering phone calls to the classroom right when the start bell sounds with a line of kids asking for anything from pencils, to paper, tissues, and drinks of water while I'm pulling up documents for display on the LCD projector, or making the font bigger because most students, even with normal sight, cannot see it from the back of the room. Then, there are knocks at the door from tardy students, kids who cannot find their homework, or asking for papers I passed out the day before that they lost, or the student crying because someone looked at her the wrong way. Thankfully though, most days are not so hectic because I am pretty serious about training the class to run itself; still there are those days.
If I am lucky, I will get some time during the morning break and/or lunch to use the restroom, return parent phone calls, or start tackling preparation for the next several days. Between all of this running around, and I literally mean running, I may have about five minutes to scarf down my lunch before students begin knocking on my door asking to come hang out inside because "outside is boring," and, "can we play with some of your games, or use your iMac?"
By 3:00 PM, nearly 90 students have stepped foot in and out of my room, so I take my afternoon stroll around the classroom, gathering jackets left behind, or empty water bottles shoved under desks, or broken pencil pieces and scraps of paper on the floor. Usually, I stay for at least another hour, or two to tutor students one-on-one, make more phone calls, or stop to chat and/or collaborate with my colleagues.
When I return home, I feed my dog once more, make a meal for myself, relax by watching the evening news and Jeopardy, take Bethany for a 45 minute walk, come home, polish up lesson plans for the next day, and finally call it a day.
I've been asked how I maintain control of a classroom of sighted students. Just as with students under the instruction of a sighted teacher it is high expectations. First and foremost, for effective classroom management high expectations are a must, both behaviorally and academically. Additionally, having clear and consistent consequences is key. Finally, in certain situations I can rely on a mature and respected student to be my, "eyes." They often love this role, especially in circumstances when they notice something I do not, such as a student who may be sitting and doing nothing because they are confused about the material.
Sometimes people have to put up with difficult co-workers to do their job, but I am blessed to have some fantastic colleagues and administrators who are passionate about education and who support me 100% in my work. They are hardworking, talented, and it is a privilege to always be learning new tricks of the trade from them.
To make a long story short about how I found my job, I had been looking for jobs out of undergraduate school when I called a former political science professor to ask her if I could use her name as a reference on my resume. She mentioned a program called Teach for America and said she thought I'd make an excellent candidate. While I had no interest in teaching, I looked up information about the program, and figured it would not hurt to apply and gain experience interviewing. Within months, I got accepted to the program and began preparing to teach in another state. By the way, Teach for America is an AmeriCorps program that recruits recent college graduates, trains us to teach, and places us in a low-income school district for a two-year commitment.
Before I had applied to the Teach for America program, I worked in two different education-related positions. The first took place several years during the Summer as a computer instructor at a transition to employment program at my local commission for the blind. Later, I joined an AmeriCorps VISTA program teaching high-school drop-outs in a G.E.D. preparation program. In retrospect, seeing how these jobs connect and led me to where I am today, I suppose you could say I was destined to become a part of the education profession.
While most corps members leave after the two years to pursue other professions, some of us enjoy the job enough that we stay in the classroom. In 2011, I completed a MA program in Educational Leadership and Supervision, allowing me the ability to be a school administrator. Maybe someday, I'll go down that path, but right now, I still enjoy my classroom experience where I can develop closer relationships with my students and their families.
Surprisingly, there are not many adaptations I require in my job. I do use a laptop with a screen reader program for most of my work which is displayed on an overhead LCD projector in my classroom. I also access books electronically through use of a BrailleNote Apex and books from bookshare.org. Low-tech wise, I use a Braille writer to label files, index cards with student information, and work-related notes.
What I love the most about my job is the interaction with my students. It is a pleasure to get to know them and their families, get invited to their family functions, and be a part of their learning. Working with youth usually has me in a great mood because they always have funny things to say, or do. And to be honest, (or as they say in kid lingo, "TBH"), I'd much prefer to work with kids than adults any day!
Another perk of teaching is Summer vacation. As I write this, I am visiting family in another state from where I live, and it is the second state to which I have traveled since school let out. I love to travel to new places and will usually jump at the opportunity to go somewhere I have never been! Last Summer, I attended a Spanish school in Central America, and next Summer I am considering a trip to Europe to Krakow, Poland for World Youth Day, which is the largest gathering of Catholic youth from around the world. More than 2 million were in attendance during the most-recent event in Brazil.
My least favorite aspect of my job is all of the paperwork and what seems at times endless hours of planning. Additionally, I am not a fan of district-mandated trainings and the myriad standardized tests the students must take.
In order to enter and love the teaching profession that I am in, you must be passionate about youth, patient for the demands of the job, and organized like there is no tomorrow. I scratched my head when asked in the Teach for America interview how I stay organized. After doing the job for nine years, I now know why they asked that question. There are usually a million things going on in the classroom day in and day out and a thousand decisions that need to be made, often in an instant, so amazing organization skills are mandatory.
The Contact: Brian Quintana