Cooking Without Looking—Part 2 with Co-Host, Allen Preston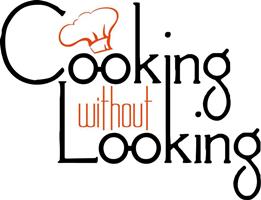 Introduction: Funny how some of the best jobs just seem to fall in your lap. Or, do they? Follow the links in Allen Preston's chain of experiences and activities to see how he ended up with one of the most enjoyable jobs he's ever had! See if you can spot the one thing he did that linked him to becoming the popular co-host of Cooking without Looking. The Story: My name is Allen Preston. I was born in Illinois and raised by my grandparents in an affluent suburb of Toronto. Then from age 10, I was farm raised in north central Minnesota. Two years of trade school after high school and a BS from the University of Minnesota and suddenly I was a teacher! I taught for about the same amount of time as I went to school. Then I moved to Florida where I worked for a local government agency for a few years before I was pressured into an early retirement. I am sure that my eyesight had something to do with my early retirement but they couldn't say that because Division of Blind services was involved with me getting the job. So officially on paper I retired for other reasons. Neither my immediate supervisor or the department head had a college degree and I did. I believe this was an underlying factor that made them uncomfortable and because of ADA they felt pressured to hire me. I realize this sounds a bit strange, but you'd have to understand the "good old boy" network of county government in the 80's.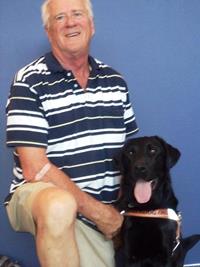 The work ethic I was raised with made me feel guilty about being paid and not working. But, ironically, this is when I truly started enjoying my life because I started volunteering. I got involved with the local American Council of the Blind (ACB) chapter which led to a volunteer job running an organization called The Braille Club. To this day I have spent my life volunteering my time to advocate for people who are blind and severely visually impaired, as well as for those with other disabilities. I am active with the local Lions Club, on the Board of Directors of our local Lighthouse for the Blind and occasionally do fund raising presentations for Leader Dogs. All this has led to too many interesting adventures to go into in this one article but, suffice it to say it has been good. Today I have slowed down a bit. Arthritis and other age related stuff made it difficult to maintain my house so I sold it and bought an apartment in a "senior community" in south Florida where my Leader Dog, Links, and I enjoy our morning walks and evenings with friends and neighbors. This article, however, is the story about how I got involved with Cooking without Looking so let's move on. One day a bunch of years ago at an ACB meeting a lady named Renee was asking for blind and severely visually impaired volunteers to be part of the studio audience at a filming of Cooking Without Looking. I told her I couldn't attend but she should come to the Braille Club and ask the members. The day Renee came to the Braille Club, a lady I was fond of was also there. She said she would like to go and knew someone who would drive. On the day of the filming at what I call "the fancy kitchen place" my friend and I were roaming around looking at kitchen stuff during a break in the filming. All of a sudden a bright light appeared in my eyes. ( I still have some vision and could see the light.) I was asked a question about my guide dog and I responded with humor saying something like, "Among other things he is a great help with clean up when I am cooking." Later, Renee asked me if I would like to be on the show. I got the impression I would be a guest chef. I told her that I was not much of a cook. She said, "Don't worry about it. We will figure something out." I asked Renee several times over the next few weeks if I needed to have a recipe or something and she just kept saying, "Don't worry about it."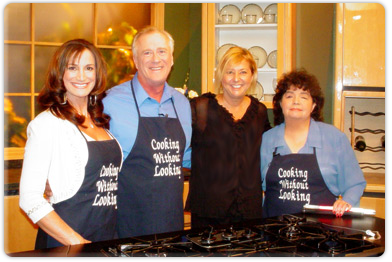 The day of our taping arrived and I showed up at the public broadcasting studio and was handed a script in some giant font size that I could read as I walked through the door. This was the first I knew I was one of the co-hosts of Cooking Without Looking. I was hustled into the makeup room where I first met Annette and Celia. We had a few minutes to memorize and practice our script while we got "made up." After makeup we were lined up behind a countertop with cameras, microphones, wires and all kinds of stuff on the other side. My guide dog didn't want me to go through all these wires and cables but we made it. All was well until they turned the filming lights on and, flash! All I could see was "BRIGHT!" Out of the brightness came a voice that said "look at the camera with the red light on and read the teleprompter". Obviously no one had told the production crew that all three of us were blind. We all laughed so hard that it took several takes to do our opening. I enjoyed the taping of every show and now I am proud to be part of the team that helps encourage other visually impaired people to maintain their independence. Thank you Renee for that opportunity and, thank you, God, for the ability to do it. Accommodations I use on a daily basis are a computer with an enhancement program called "ZoomText." The program magnifies, manipulates colors so I can see everything (I have no color perception so this is very handy), and it reads to me. My screen is a 32-inch monitor that I keep close, about 1 foot away from my face. I watch television on a 50 inch screen. I have a CCTV that I use frequently and I use talking books from the Library of Congress. Low-tech magnifiers fill in the gaps for restaurants and other places I need to read when not at home. My best and most valuable assistive technology device, however, is my guide dog Links. I trust my life with him when I leave the house and at home he provides lots of "warm fuzzies" unlike this hard, cold computer and other electronic devices. (Smile.) In ending if I may paraphrase a quote from Eleanor Roosevelt I will say, "Yesterday is history, tomorrow is a mystery. Today is God's gift, enjoy the present." I would like to add, " Learn from the past, plan for the future, and enjoy the present that God has given us." The Contact: Cooking without Looking; Phone Number: 305.200.9104 Watch this YouTube video to see Allen at work!