Christine Ha Interview: Visually Impaired Chef, Author, and TV Personality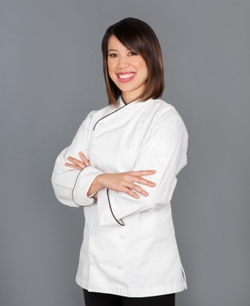 Interview 3 with Christine Ha, winner of MasterChef U.S. season 3 on FOX, New York Times best-selling author of Recipes from My Home Kitchen (2013), co-host of "Four Senses, Canada" on AMI, and AFB Helen Keller Achievement Award winner
Interview Date: September 11, 2015
APH CareerConnect: Thank you for taking the time to answer these questions. AFB and APH CareerConnect truly value you, your representation as a role model, and the passion and talent that you bring to the world.
APH CareerConnect: What was your favorite part of season 2 of "Four Senses?"
Christine Ha: A bigger and more fabulous kitchen! Also, the camaraderie between Carl and me has solidified as we've gotten to become friends over the first season of production. Lastly, perhaps meeting Ed Robertson of Barenaked Ladies.
APH CareerConnect: During your guest appearance on MasterChef, Season 6, past-winner, Lucca seemed to utilize correct sighted guide, did you give him a little instruction in this?
Christine Ha: Lucca and I have been friends since my season of MasterChef since he tried out for season 3. We've hung out several times in both NYC and Houston and during the MasterChef cruise we did together in the Caribbean last November. He's learned to guide me well through all these times. He's a very good learner.
APH CareerConnect: For APH CareerConnect, we do a lot of work around the "Tell me a little bit about yourself" interview question with youth around the United States, can you give us your sales pitch about yourself (tell me a little bit about yourself)?
Christine Ha: Born in California, raised in Texas. I have a Bachelor of Business Administration in Finance from The University of Texas at Austin and a Master of Fine Arts in Creative Writing from the University of Houston.
Currently:
I'm watching: "Seinfeld" reruns, always and forever
I'm listening to: Freakonomics podcast and my Apple Music playlists, which include Bob Marley, Lorde, Delta Spirit, and Depeche Mode
I'm reading: The Fishermen by Chigocie Obioma and The Third Plate by Dan Barber,
I have in my fridge: chicken wings made by my mother-in-law, grass-fed Irish butter and cheese, lots of wild boar from my husband's recent hunting trip
I'd like to spend money on: a backyard patio deck so we can dine and entertain al fresco when the weather is nice in Houston 70% of the year
I'd like to get rid of: clutter
I'm thinking about: opening a bottle of bubbly tonight with my friends
I love: Texas thunderstorms (happening right now)
I loathe: jet lag
I'm working on: my Vietnamese, my memoir, and recipes for "Four Senses" season 3
APH CareerConnect: You have been a guest judge on MasterChef Vietnam, and you are now one of the current season's judges. What types of accommodations have you asked for?
Christine Ha: Funnily, the accommodations I've asked for don't have much to do with my vision loss, but more so cultural and environmental differences. I've asked for no smoking on set, for more fans on set (there's no central A/C), more help with my Vietnamese, and more time to learn my lines.
APH CareerConnect: Does someone describe the visual look of the plates for you?
Christine Ha: Yes, Chef Hai, with whom I've worked before on MasterChef, does a wonderful job of guiding me, placing food on a spoon for me to taste, and describing the presentation of dishes if I ask.
APH CareerConnect: Is it meaningful to be representing MasterChef in Vietnam, as your family was originally from there?
Christine Ha: Yes. I've actually learned a lot about the cuisine, language, and culture. It makes me feel closer to my heritage and gain a whole new respect and appreciation for it.
APH CareerConnect: In the past, I have asked you what your favorite adapted kitchen device might be, and you mentioned your liquid level indicator. Do you have any new favorite tools?
Christine Ha: A bench scraper, which isn't so much an adaptive tool, but it's so handy to help me gather all the veggies I've cut on my board or scrape the counter clean. It helps you cook and clean faster without having to see. Of course, it's just as helpful for those who do have vision.
APH CareerConnect: You have talked about your use of raised labeling dots; have you figured out any other strategies to share with our audience?
Christine Ha: I use technology a lot when it comes to cooking. I keep all my recipes in Evernote so I can access them easily at my desk, in the kitchen, at the grocery store. I also use the My Groceries app to keep running lists of items to get at the American market, the Asian market, and what's in my pantry inventory. This helps when you can't see and often forget what's in your freezer and pantry. Once I run out of a staple item—eggs, for example—I'll move it from my Pantry Inventory list to my American market list.
APH CareerConnect: You have mentioned that your mother was a role model or mentor to you early on. Do you have a current mentor or role model?
Christine Ha: I really don't have one person in mind. I find everyone I know has something good in them I should try and emulate. I admire my husband's entrepreneurial ambition. In my close friends, I see selflessness, a love for adventure and travel, wit, even fashion savvy. Obviously, there's a reason behind the company we keep. In one way or another, I find most of the people I hold dear in my life to be role models.
APH CareerConnect: If you were on MasterChef as a contestant again, what would be your current go-to, five-star dishes to cook for the judges?
Christine Ha: Tough question. Perhaps some sort of seafood crudo.
APH CareerConnect: You travel a lot. In your opinion, what was the most accessible or disability-friendly hotel or city that you have been to in your travels?
Christine Ha: Good question. I found Seoul, Korea, to be blind friendly: There are metal markers lining sidewalks and the subway stations for a blind person to follow with their cane. I've found Canada, the UK, and Ireland to be blind friendly, too.
APH CareerConnect: What are your four favorite apps on your iPhone right now?
Christine Ha: Love this question. Apps I use most frequently are Apple Music, Audible, Facebook, Twitter, Instagram, Pages, Evernote, My Groceries, Netflix, and Newsify. The apps I've found most VoiceOver friendly are Nest, Money Reader, Bank of America, Uber, and Amazon. And while we're on the subject, the ones I wish would improve in accessibility are Instagram, Facebook, United Airlines, and WordPress.
APH CareerConnect: You have won MasterChef Season 3; your cookbook was a New York Times bestseller; you co-hosted a television show in Canada; you are a judge on MasterChef Vietnam, and you have won AFB's Helen Keller Personal Achievement Award—what would you like to come next?
Christine Ha: Finish and publish my memoir, write another cookbook, open dining establishments both here and abroad, take on another television show in America, then world domination—not necessarily in that order.
APH CareerConnect: Is there anything else you would like to share or promote?
Christine Ha: I am the brand ambassador for Uncle Jax American gourmet popcorn, currently available only in Vietnam. Here is my social media info:
Website: theblindcook.com
Facebook: facebook.com/theblindcook
Twitter: @theblindcook
YouTube: YouTube.com/ChristineHaTube
Instagram: @theblindcook
Also, I'd like to promote the first annual Dining for NMO Day; info can be found at http://www.diningfornmo.org.