Interview with Senior Manager of Corporate Affairs – Constituent Relations for Walmart and Blind, Russell Shaffer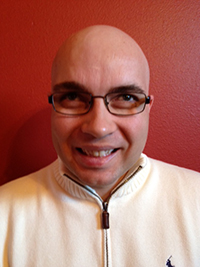 APH CareerConnect connected with Russell Shaffer to ask him a few questions about his work, life, and experiences as an individual who is blind. Mr. Shaffer provides a glimpse into the path he traveled and a little advice for job seekers. He navigated vision loss and impresses in the workplace.
APH CareerConnect: What is your job title and what does your job entail?
Russell Shaffer: I'm Senior Manager of Corporate Affairs – Constituent Relations for Walmart. I manage Walmart's relationships with national stakeholder organizations in the aging and people with disabilities communities, partnering with these groups to develop and execute programs to help older adults and people with disabilities to live better.
APH CareerConnect: What is your favorite part of your work?
Russell Shaffer: I have lots of favorite parts, though I'd say what keeps me coming back every day is the opportunity to do meaningful work on a massive scale. Walmart has the size and scope to make a big impact on the world and the communities it serves, and our culture is such that we want our associates, customers, and communities to be able to live better. It's a privilege to be able to work each day on behalf of Walmart to build relationships and develop programs that can serve our mission.
APH CareerConnect: Could you describe a little bit about your employment path that brought you to this position?
Russell Shaffer: When I graduated college I took a position as Public Relations Coordinator at The Society of the Blind in Akron, Ohio and moonlighted three or four nights a week as a sports reporter for The Canton Repository newspaper. I then went to work for the Ohio Optometric Association heading up their public relations efforts before moving to St. Louis to take a position in the advertising department at Famous-Barr/May Department Stores. I moved to Arkansas in October 2005 when my wife accepted a position at Walmart and I started as a Communications Manager in the Walmart Benefits division in January 2006. I held a variety of internal communications positions including my most previous role as Manager of Global Associate Communications prior to accepting my current position in September 2014.
APH CareerConnect: Could you describe your vision or vision loss?
Russell Shaffer: I was diagnosed at age 10 with retinitis pigmentosa (RP), a genetic, degenerative eye condition affecting about 100,000 people worldwide. I'll never forget the day I was diagnosed – I wore glasses in elementary school like a handful of other kids and my parents took me in for what we thought was a routine checkup. We went to see an optometrist we'd never seen before and after the exam she asked me if I'd like to go look at the frames while she talked with my mom and dad. It was at that time she told my parents she saw the early signs of RP in my eyes and she recommended we visit a specialist to confirm the diagnosis. This was the late 1980s and as obscure as RP is today it was even rarer of a diagnosis back then – the original diagnosing optometrist had never seen a case outside of a textbook before examining me. So we packed up the car for a summer road trip to Boston to visit the top RP specialist in the country at the time, and following a battery of tests on me and my mom he confirmed that I have RP. He told me and my parents I would go blind someday and estimated it would be in my 40s or 50s. It was a hard thing to hear as a kid, but I always tried to look at things on the bright side in that at least I'd have 30 or 40 years of being able to see. The doctor was certainly right about me having RP, but his timeline was a little off. I began losing my ability to see at night as a teenager then started developing tunnel vision in my early 20s – both classic symptoms of RP. I stopped driving by my mid-20s and by my late 20s I was legally blind. That was about 15-20 years sooner than that doctor in Boston had predicted when I was a kid, and I think that was the hardest part about going blind. It wasn't that I hadn't accepted that I would be blind someday, it was just that I wasn't ready to be blind. There were still things in life I wanted to see that I hadn't seen yet, and it was hard for my wife to accept I was blind so early in life because I had shared my initial prognosis with her of likely being able to see into my 40s or 50s. But that wasn't how things turned out, and I could either find ways to deal with it or I could give up. I chose to deal with it, and today despite having little to no useable sight remaining I'm able to work full-time, be active in my community and carry my fair share of domestic duties – including caring for my daughter, 7, and son, 2. Being blind doesn't mean you can't do things anymore, it simply means you need to learn how to do some things differently.
APH CareerConnect: Do you use a white cane, dog guide, or one or the other at specific times?
Russell Shaffer: I use a white cane to get around in the office, the airport and wherever I am out in the community. I never had a dog growing up and as far as pets go I prefer cats. That said, I think my kids are going to want a dog someday (probably soon) and when that day comes I'll strongly consider getting a guide dog. I know many people personally and through social media with guide dogs and I've never encountered one person who said it was a mistake or that they wish they could go back to just using a cane.
APH CareerConnect: What types of technology do you use for your job?
Russell Shaffer: I used to use ZoomText and a large high-definition monitor when I first began losing my sight and only needed magnification and high contrast. As my sight continually degenerated I shifted to using JAWS screen reading software. That's what I use today as well as VoiceOver on my Apple iPhone which I use to access my calendar and company email while on the go.
APH CareerConnect: If you use a smart phone, what type of phone do you use and do you have a favorite app?
Russell Shaffer: I use an Apple iPhone 4S with Voice Over enabled. It's great because it levels the playing field for me to use most mainstream apps – Facebook, Twitter, Linked In – in much the same way as the rest of the sighted population. As far as apps for people who are blind, my favorite is TapTapSee as it's easy to use and helps me identify a lot of objects quickly. My absolute favorite app is the MLB At Bat app – I love baseball and the app is so user-friendly with Voice Over and I enjoy being able to listen to live audio feeds of any game (including my beloved Cleveland Indians) since watching games on TV isn't optimal because the broadcasters tailor their commentary around what they expect the viewer is able to see on screen. Radio announcers must paint a more complete picture of the game and I love having access to that right on my phone.
APH CareerConnect: What type of education or training did you complete (college, vocational training, etc.)?
Russell Shaffer: I graduated with honors from Malone College (now University) in Canton, Ohio with a double major Bachelor of Arts in Business Administration and Communication Arts. I've completed several professional development trainings and seminars since college, including an intensive 12-week Dale Carnegie course.
APH CareerConnect: What was your first job and what were some of your job tasks?
Russell Shaffer: My first paying gig was actually as a newspaper carrier in my neighborhood when I was in sixth grade. I kept that job all the way through my freshman year of college, and it was my first experience using an accommodation for my sight loss. I had to deliver the papers early in the morning before school and for most of the year it was dark when I was walking my route so I had to use a flashlight. My retinitis pigmentosa affected my ability to see in the dark before anything else, so while my buddy who did the other half of the route didn't need a flashlight (he could get around just by the street lights), I did. My first "real" job was as a Walmart cashier when I was 17 and I ended up working at Walmart and Sam's Club all the way through college, helping to build a strong understanding of our retail operations that assists me in my job today. I did almost every task in the store at one time or another – running front end cash registers, the service desk and layaway as well as working in the electronics department. I even cut fabric once in the Crafts department when the store was short-handed and a fellow associate needed a break. My sight loss wasn't significant when I worked in the stores, but I still tried a lot of things I didn't know how to do going in. I think that's what has helped me to remain viable in the workforce as my sight eroded – that willingness to take risks and to learn new things. A desire to learn and grow yourself will serve you well in the workplace regardless of whether you are blind or if you can see.
APH CareerConnect: Have you had a mentor who impacted your life?
Russell Shaffer: I have been blessed to have several mentors make an impact on my life and career. One of the greatest attributes the successful people I know have in common is humility. Humility helps you recognize that you don't know everything and that there are things you can learn from others. I've found it helps to approach mentor relationships – from both the mentor and mentee side of things – with a spirit of humility. Now that I'm at a point in my life and career where I can be a mentor as well as be mentored, I'm amazed that I learn and grow from the relationships with my mentees as much as I do from engaging with my mentors.
APH CareerConnect: If you could provide youth with one piece of employment advice, what would it be?
Russell Shaffer: Pursue a career doing something you love – that's the most important ingredient for sustained professional success and satisfaction. That said, you need to be realistic about the work you're seeking to do and if you'll reasonably be able to perform that work with or without accommodations given your limited sight. Try to job shadow professionals – both those who are blind and those who aren't – working in your desired field and do your best to understand the ins and outs of their daily routine. If your sight loss is degenerative in nature, you might feel confident you could perform the essential functions of the job today but what about in 10 or 20 years as your sight further deteriorates? Be honest with yourself and try to do a thorough assessment of the education and training you'll need to enter that field as well as the vocational and independent living skills you'll require. Take steps while you're still in school to master assistive technology and any other adaptive skills you'll need as a professional so that you're well-positioned to enter the competitive workforce.
APH CareerConnect: If you could provide one piece of advice to adults who are losing their vision, what would that be?
Russell Shaffer: Don't wait until you are blind to get training on assistive technology, braille, orientation and mobility, and any other professional and/or personal adaptations that will help you. I went blind in my 20s and I wasn't ready – I knew it was happening but it happened more rapidly than I expected. If you need to seek counseling to help you emotionally manage the loss, don't be ashamed to ask for that help – especially if it equips you to better obtain the vocational and independent living training you need. It's a lot easier to learn orientation and mobility or how to use assistive technology while you still have some usable sight.
APH CareerConnect: In your daily life, do you use any strategies or adapted tools for your independent living activities?
Russell Shaffer: At home I use bump dots on the microwave, stove and other appliances to help identify important buttons/settings. I also organize my sock drawers into color sections and arrange my hanging clothes in certain orders to assist me in selecting the proper colors. An app on my phone helps me identify the denomination of money and then I fold bills a certain way before putting into my wallet for ease of use when paying.
APH CareerConnect: If you received training specific to blindness, what organization(s) provided that training?
Russell Shaffer: I received extensive orientation and mobility training through the Arkansas Department of Services for the Blind.
APH CareerConnect: Is there anything else you would like to share with our audience?
Russell Shaffer: Never lose confidence in yourself or your abilities. You will meet people in your life who will doubt you because you are blind or losing your sight, so prove them wrong. One of my greatest regrets during my own journey to blindness is that I started to believe some of my doubters, and it set me back a few years in life. I've worked hard to try and rally back from that, and I think I've been fortunate to build a good life for myself and my family. But I can't help wondering sometimes how much more I'd have been able to accomplish by this point in my life if I hadn't conceded victory to my doubters and forfeited a few years of development opportunities. If I can teach people who are blind or losing their sight anything from my own experiences, it's to be your own best advocate and never back down from trying to show the world what you can do. There's nothing special or extraordinary about me that has helped me get to where I am today, I've just believed in myself and worked hard to make the most of the talents and opportunities I've been given. I know each and every person reading this has the same ability inside her or him, and I hope my story can encourage you to tap into it. Good luck – I'm cheering for you.