Syndicated Broadcast Radio Host & Producer (Profile)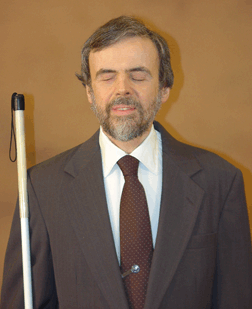 Intro: Every Friday night at 8pm eastern, listeners to West Virginia Public Radio can hear Sidetracks, a syndicated radio show produced by CareerConnect Mentor Ed McDonald, and his wife, Karen. This popular, unique one-hour lineup of traditional bluegrass, folk, country, blues, gospel and related styles of contemporary acoustic music is uniquely produced from their Keyser home.
The Story: Greetings! I'm Ed McDonald and my wife, Karen, and I are the founders and proprietors of EIO Productions. We describe ourselves as a couple of proud and loyal West Virginians who are happy to have found each other and a way to share with others the things we love best—music, in particular. I like to say that the format of our show is kind of like "handmade music." It's the difference between sitting in a handmade, one of a kind wooden chair or a plastic stack chair that you can get anywhere. We describe it as "today's acoustic music with roots in tradition and branches into the future."
Karen and I make the selections for the program together. My background in radio and Karen's trained musical ear in piano and singing serve us well and bring us good results that the audience seems to really like. I have degrees in broadcasting and mass communications from Bethany College and Ohio University and have worked at several commercial and public radio stations. Karen earned degrees from Potomac State College and Fairmont State College in music, with an emphasis on piano performance. She has successfully raised four children and directed a community choir for more than 20 years.
I believe it is safe to say that there is for us no such thing as a "typical" work day. Because our studio and office both are in our home, it is often hard to separate home life from work life. The flexibility of such work arrangements can be rewarding, but managing time effectively becomes a constant challenge.
It requires discipline and a healthy balance between the two. For example, in our big old home in Keyser, the office door opens off one side of the dining room, and the kitchen opens off the other. As a result we may end up listening to a newly completed show for quality control purposes while eating breakfast. During the hours between dinner and bedtime I often listen to new CDs or write a new script. As an active member of the National Federation of the Blind both on a state and national level, I may also take time to do some Federation work or ride the exercise bike in the middle of the day.
In a nutshell, I write, produce, and host the show. As associate producer, one of Karen's many responsibilities is serving as our business's computer guru. She also secures new music from record companies and independent artists, selects appropriate music from new recordings and assists with content research for our many themed shows.
We are always working on dozens of themes. Some we may ponder for months; songs about autumn, songs about wandering, dogs, the Civil War, and even Abraham Lincoln's two hundredth birthday. One year's show in November was about home and how Thanksgiving often turns our thoughts to family and back to our childhood home.
Outside of EIO Productions We have regular contact—mostly via email—with artists and record companies whose music we play on the show. This may involve trying to secure new music we want to play or responding to inquiries from artists and labels who are trying to persuade us to play their stuff.
We also have some ongoing contact with the stations that air the show—especially if something does not arrive on time!
Even though we work under some tight time constraints when we receive individual listener feedback, I try to personally answer every listener response we get. Often this is simply acknowledging a compliment or a kind word, but it sometimes involves answering a question about a particular song or artist.
As mentioned, we are becoming increasingly involved with underwriters and potential underwriters, which are the source of financial support. This involves recruiting, developing contractual agreements, billing, and updating the underwriting announcements from week to week. Since we do not have and cannot afford a staff to do these things, we must do them ourselves.
In order to do our work efficiently and effectively we employ a variety of solutions, both high and low-tech. Both of us use BrailleNotes—notetakers with refreshable braille displays, as well as computers with screen readers and speech. Each of the several thousand CDs in our music library is labeled in braille. We also use a complex and sometimes unwieldy system of braille cards to represent the individual songs in our music library, and these cards are often used to group songs into topics and themes. We still use the services of a sighted reader, mostly to process mail and to gain access to necessary CD information—artists, song titles, composers, musicians, etc. More and more, however, we are utilizing Internet sources and securing this information for ourselves.
I have affixed braille labels to many of the controls on various pieces of studio equipment. This isn't just because I am becoming too old and lazy to memorize the many knobs, dials and toggles but, also because it helps prevent making mistakes while using items like a mixing board, an eight-track digital recorder, CD players, turntables, and a CD recorder. Even so, after many years of struggle—I am at last making the transition to computer-based production of the show, using accessible audio production software. At this time I am working primarily with Sonar, but will probably familiarize myself with Sound Forge and perhaps other similar programs.
Over the years I have also used such devices as an audible VU meter, a tactile stopwatch and an Optical to Tactile Converter (Optacon), which is an electromechanical device that enables blind people to read printed material that has not been transcribed into braille.
Because the show is based around contemporary acoustic music, it is always rewarding to discover new artists or a new recording that is especially good. It is also rewarding to receive a message from a listener who has enjoyed a particular song or program concept. These are just a couple of things we like best about our work. Once in a great while, I listen to one of our shows on the radio and say to myself or to Karen, "That one was pretty darn good, if I do say so myself!"
One of the most dislikable parts of the job, and it is actually more of a frustration than a dislike, is the amount of time and effort that is sometimes required just to get the necessary information about a particular CD. Equally frustrating is the fact that we receive such a volume of new CDs that it becomes virtually impossible to listen to and evaluate all of them. Plus, there is the lack of sufficient air time to play all of the worthy music we receive and maintain in our library. Perhaps, these last two are good problems to have?
I was asked what sort of advice would I give to someone who wants to get into this business. I am always reluctant to give advice, because what has worked for me may not work for someone else. If pressed, however, I might suggest being flexible and willing to modify one's hopes and aspirations.
I know that a lot of blind people have dreams of "getting into radio." As a kid, I became one of them. I wanted to be the funny entertaining morning DJ like the ones I enjoyed listening to back in the 1950s and '60s. As it turned out, though, I didn't have a particularly good voice for that type of radio. Plus, I wasn't very funny, and I didn't much like getting up early in the morning. I also did not have the competitive or aggressive personality that I perceived as being necessary for finding a place in commercial radio. As radio evolved and I discovered new things, I became increasingly interested in public radio as well as in less popular, but more fulfilling genres and styles of music. As a result, I have been able to find a place for myself playing and talking about these styles of music on noncommercial radio. This is not what I had in mind when I first declared that I wanted to be a radio DJ, but I am convinced it has turned out to be much more fulfilling and satisfying than the funny early morning guy ever would have been!
The Contact: Ed McDonald
Listen to Sidetracks on Web Radio:
http://wvpublic.org/listen-live
In addition to being broadcast by West Virginia Public Radio on its network of stations around the state since the fall of 2003, Sidetracks is also heard on networks in Maryland and Virginia as well as the internet. Note: Sidetracks is only available during its broadcast time (Fridays at 8 p.m. EST).
(Note: Photo of Ed McDonald reprinted with permission of West Virginia Public Broadcasting.)