Interview with Past United States Paralympic Athlete and Senior Residual Market Financial Analyst, Donte Mickens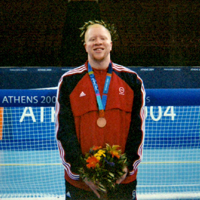 Donte Mickens has been a United States Paralympics athlete for a number of years. The Men's U.S. Paralympic Team finished just shy of qualifying for the 2012 Games, however, Mr. Mickens would have likely been ineligible due to a season-ending torn ACL suffered early in the year.
Mr. Mickens is not just an international athlete. Mr. Mickens has been successful in his career in financial analysis. As the commercials for the Olympics state, "They are not just athletes." Many go on to careers besides professional sports. Currently there is no professional goalball league, but I would definitely tune in to that!
If you don't know about the sport of goalball, here is a general description of the sport. Goalball is played on court, typically a basketball or volleyball court. All of the participants are visually impaired, and must wear blacked out goggles or sleep shades (but more like ski goggles).
The sport utilizes lines that are raised by having wire under tape to make the lines tactile. The court is set up similar to a volleyball court, in size. The goals extend the width of the court at the two shorter sides (on each end, like a basketball court would be set up). The goals are about four feet high and as wide as the court.
Goalball is played with three persons on each team, set at each end of the court. There are other raised lines on the court to help players stay oriented to the space. Goalball utilizes a ball similar to a basketball, but a little harder and with holes in it. The ball has bells inside it to allow the players to know where it is throughout the game.
The players have positions on their own side of the court: center, right wing, and left wing. The athletes have to listen to the sound of the ball to try to adjust and block the ball from going into the goal. The basic idea is for the athletes to try to throw the goalball into the other team's goal.
The players pass the ball among each other, and have a certain amount of seconds to send the ball back across the court before getting a penalty. Some people might say it is the opposite of dodgeball, but with a large goal. The amazing thing is that athletes such as Mr. Mickens can throw this ball close to fifty miles per hour. Imagine being hit with a basketball at almost fifty miles per hour—it hurts!
The athletes practice listening and localizing where the ball is and the angle at which it will travel. The athletes try to cut off angles because they cannot cover the whole width of the court. So, this means athletes have to dive in front of the ball, while protecting themselves if needed. The top athletes are very skilled in localizing the goalball.
The ball has to hit the ground by a certain point when thrown, so it is traveling on the ground for the most part. But, when a ball hits a person at upwards of forty miles per hour, it can be launched quite high. The top athletes move around on the court to try to confuse the other team, switching places on the court and throwing the ball from different launch points. This provides a good background about the sport of goalball.
Mr. Mickens took the time to answer some questions for APH CareerConnect about his education, work experience, career, and past Paralympics experiences. He provides some great tips and advice. Mr. Mickens has worked on building his career and athletic pursuits.
Background Information on Donte Mickens
Hometown: West Palm Beach, FL
Current City: Delray Beach, FL
Age: 31
Eye Condition: Ocular Albinism
Questions & Answers
APH CareerConnect: What is your job title?
Mr. Mickens: Senior Residual Market Financial Analyst at NCCI
APH CareerConnect: What does your job entail?
Mr. Mickens: Financial Analysis, preparation of financial statements, and accounting.
My role at NCCI is to facilitate the administration and pooling of residual market workers' compensation policies through financial analysis, accounting for pool results and the preparation of financial statements.
APH CareerConnect: What types of technology (assistive) do you use to accomplish your job?
Mr. Mickens: Mostly the accessibility features within Microsoft Office and increased magnification tool within Internet Explorer when conducting online research
APH CareerConnect: What did you major in at Florida State University?
Mr. Mickens: B.S. in Finance (2003), B.S. in Risk Management (2006), M.S. in Management with a major in Risk Management (2012)
APH CareerConnect: Did you have a job while in high school or college?
Mr. Mickens: During high school, I was a tutor and worked at a pizzeria. During college, I worked at a local bank, and I worked for the Florida Division of Blind Services while completing a Risk Management degree.
APH CareerConnect: How did you get involved in the sport, goalball?
Mr. Mickens: I competed in goalball while in high school at the Florida School for the Deaf and the Blind.
APH CareerConnect: Tell us a little about competing on the United States Paralympics' Men's Goalball team. What have been some of the highlights?
Mr. Mickens: I was honored to be selected for the Men's 2004 and 2008 Paralympics Goalball team. Originally named as a U.S. team member in 2003, I helped the team to qualify for the 2004 Games in Greece where we won a bronze medal. The U.S. team finished just shy of the medal stand in 2008 where we came in 4th place. Over the course of my tenure with the U.S. team, we have been fortunate to experience a respectable level of success, securing a variety of medals and strong finishes at numerous international tournaments.
APH CareerConnect: How have sports helped you in life?
Mr. Mickens: My participation in competitive sports (goalball and basketball) has provided an opportunity to travel the world and has helped to maintain a level of self-confidence, which has helped me to overcome the challenges that low vision can entail. Sports have also been a great way to stay in shape.
APH CareerConnect: Did you have a mentor who is blind or visually impaired while growing up?
Mr. Mickens: I've been blessed to encounter several individuals who have helped me to be a more effective advocate for myself and who have shown by their own accomplishments that vision should not ever deter one from giving your best effort at achieving your goals. Michael Elliot, my former VR counselor while in college, would be one of these individuals.
APH CareerConnect: What advice would you want to pass on to youth who are blind or visually impaired?
Mr. Mickens: Never allow pride to dissuade you from taking full advantage of the various services, technology and resources, which are available, and sometimes necessary, for you to reach your goals. Also, never allow someone to limit your potential. You are the ultimate judge of your capabilities. Through my work on the Florida Rehabilitation Council for the Blind, my goal is to serve as a voice for former, current and future clients of the state's Division of Blind Services, helping the agency to continue providing effective and innovative services for the blind and visually impaired community within Florida.
APH CareerConnect: Is there anything else you would like to share?
Mr. Mickens: Having the support of family, friends, teachers, and coaches has been the primary reason I have been able to participate and experience so much in a short time. Additionally, once I entered the workforce, the support of my employers, currently NCCI, has been pivotal to ensuring adequate time to train for and compete internationally.
APH CareerConnect: Do you supervise staff?
Mr. Mickens: My current job does not involve supervising others; however, at my previous position, with the Florida Office of Insurance Regulation, I supervised a team of five analysts.
Thoughts from APH CareerConnect
Mr. Mickens is a CareerConnect mentor. He has mentored persons throughout his life through his actions and success. He also serves on the Board of Directors for the Lighthouse for the Blind of the Palm Beaches. He has been a great role model to many young persons and adults. He has always been an ideal employee to his employers. He has always been willing to educate and explain his visual impairment and the practical implications. APH CareerConnect is proud to have Mr. Mickens as a mentor.