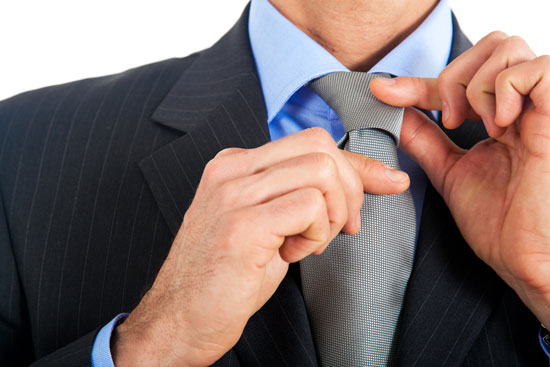 You enter the office, first day on the job; the big meeting, your nerves accompanying; the interview, for the long-awaited position; or you enter a routine day at the office.
Are you picturing yourself? Good. What was your outfit of choice?
I'm hoping it was one that makes you feel assertive, self-assured, and distinguished because what a difference an outfit makes.
Wrinkled clothes? You may feel a bit self-conscious.
Clothes too tight? You may feel stiff.
Uncomfortable shoes? You may feel preoccupied.
Clothes too casual? You may feel sloppy.
Self-conscious, stiff, preoccupied, and sloppy? No thanks.
Assertive, self-assured, and distinguished? Yes, please. Clothes that make us feel like this—let's call them our power outfits.
To create a wardrobe of power outfits, helping you look and feel confident and competent, begin by purging. Rid of clothing items that are faded, stained, ill-fitted, ragged, or uncomfortable; utilize the sight of a friend or family member to detect fading or stains. If any piece of your office wardrobe (shoes, belt, jewelry, tights, shirt, or pants) is not presenting you as confident and competent, toss or donate it.
After the purge, it's time to splurge. Evaluate your wardrobe and recognize what is missing or in need of updating in order to be work appropriate, keeping in mind the formality of your workplace. [Don't know how formal others are dressed? Ask a coworker-friend or your supervisor.] Perhaps you could use attractive shoes and a few sophisticated shirts. Shop wisely by purchasing items within your budget, that can be mix and matched, and that are a timeless style. When shopping, whether you are fully sighted, blind, or visually impaired, bring along an honest, assertive friend who understands professional styles, clothing choices for specific body shapes, and has an eye for colors that look good with your skin tone. (I'd go with you if I could!)
Lastly, if you haven't already, implement a simple system for organizing and labeling clothing that doesn't require sight. Perhaps the Tactile Clothing Tape would be a good labeling system for you. Now you can independently choose a power outfit for each day at the office.
If you are a teacher or rehabilitation specialist working with individuals who are blind or visually impaired, utilize the Self-presentation lesson plan for instructing consumers in choosing appropriate work clothing and properly caring for the office wardrobe.
Go, be amazing, and dress the part!
Wardrobe Organization for Persons with Visual Impairments
Polishing Your Shoes After Vision Loss