No matter what line of work you choose, note-taking skills will be necessary. You will have to take notes for many reasons. Most often, it occurs when you attend a meeting like a staff meeting or a one-on-one meeting with your manager. Managers use these kinds of meetings to relay information, to assign tasks, or to obtain status updates about projects. You must be ready to take notes when you attend them.
Naturally, vision loss challenges your note-taking skills in the workplace, but the simple act of doing it can help set you apart as a professional. So let's talk about ways to develop this skill.
Identify an Effective Note-Taking Method
What is the easiest way for you to take notes, review them, and act on them?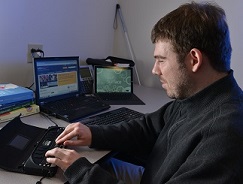 My own note-taking methods have evolved with the deterioration of my vision. I have used yellow legal pads and a Sanford 20/20 pen to voice recorders to smartphones and wireless keyboards with note-taking apps. I have known some people who use a slate and stylus and electronic notetakers to take notes too.
Important considerations for your method of choice include cost, level of competence, ease of access to stored notes, and ability to review and edit them quickly.
Perhaps you learned a method while you were in school or college. Does it still meet your needs and your job situation?
You may want to explore other options. The expansion of smartphones in our lives prompted me to look for a note-taking solution compatible with my smartphone. I settled on AFB's AccessNote back in 2013. It meets all of my needs, and it is still my primary note-taking method today. Alas, I learned it will no longer be updated due to the constant changes made to the iPhone's operating system.
I thought about the use of a digital voice recorder. If you are considering a digital voice recorder, you ought to ask your manager for permission to use it in meetings. Honestly, I never used one because the thought of listening to a meeting for a second time was a big waste of time.
After you identify the best method for yourself, it's time to get good at using it.
Practice the Method
As they say practice, practice, practice! Build your competence and your capability with your chosen note-taking method.
If you choose to use a high-tech solution, read about its features and learn how it works. Browse the web to check for tips and tricks other people might share. Then, try them out for yourself.
If you use a low-tech solution, like a 20/20 pen with a legal pad, that's great, but give some thought to the type of solution you might use later on. It's never too early to start planning for it.
Implement the Method
At this point, you ought to have a solid understanding of your note-taking method. Now then, start using it in meetings. A note of caution. Before the meeting kicks off though, take time to explain your note-taking method to your manager. For instance, after I discovered the AccessNote app, learned its features, and how to use it properly, I told my boss about it. I didn't want to give her the wrong impression about using a Bluetooth keyboard and earbuds during meetings. That kind of thing could be mistaken for being inattentive and distracted.
Stick to capturing the critical details about meetings. Things like task assignments, important dates, action items, deadlines, etc. Use those notes to propel your work and career forward. These things help set you apart as a professional.
Let me summarize.
As you develop your employability skills, make sure note-taking is on your list. It may not seem like a big deal but take my word for it. It is!
It's easy to learn and well within your ability to control. It helps you stay on track at work. It will help you perform better, which makes you a more effective employee. It's a small thing, but it can give you a big advantage!
What are your successes or struggles with note-taking? Share your experiences by commenting below.
Learn More About Employability Skills
Building Positive Work Habits: The Perfect Worker
Employer Expectations Over Time