Successful employment and sound independent living skills unquestionably go hand in hand—if we're dressed noticeably sharp for work, if we have reliable transportation to and from the office, and if we are consistently on time and prepared for work meetings, we are setting ourselves up for maintaining and advancing in our career. These are the more obvious independent living skills that are work-applicable; what about the independent living skills on display during the holiday season? Wouldn't it be wise to identify and fine-tune them ahead of time, ensuring they are ready to be confidently utilized during a workplace holiday party, get-together, or potluck?
I created a list of independent living skills routinely needed for holiday work parties, and I hope you'll note additional skills to consider in the comments section.
Personal Care
Kitchen Skills
Gift Giving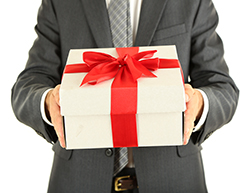 Party Tips
Take the time to prepare for the party—it'll be a fantastic opportunity to connect with the employment team and bond with your coworkers.
Additional Resources
Roll the Final Credits: Recap of CareerConnect's Employment Advice Adapted from Holiday Films
That's a Wrap: Recap of the AFB's Top 10 Holiday Hits for Career Minded Job Seekers who are Blind or Visually Impaired
That's a Wrap: Recap of the AFB's Top 10 Holiday Hits for Career Minded Job Seekers who are Blind or Visually Impaired