White Cane Safety Day, or White Cane Day, is this Saturday!
It's hard to believe we are already in the middle of October (and National Disability Employment Awareness Month). Before you know it, it will be Halloween and then the holiday season! Because I've been so busy lately, I thought the best way to celebrate this year's White Cane Day would be to slow it down with a Throwback Thursday of my favorite posts about the famous white mobility cane.
Join me for a walk down memory lane and check out these posts about the independence the white cane provides for individuals who are blind or visually impaired.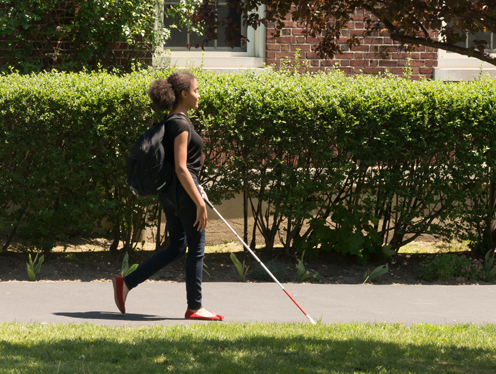 Remember when Joe Strechay introduced us to "Slim," his white cane? He talked about his first lesson in orientation and mobility and how his cane gave him the independence to navigate his way all around the country. Check out his white cane memories in "Let's Go Back to the Future with Slim, My White Cane."
What about when David Ballman talked about his struggles learning how to use the white cane? He was embarrassed of the attention the cane brought, but he realized that this tool provided him the benefits of an independent lifestyle. If you are in a similar situation, reassure yourself by reading "Thoughts on My White Cane and What It Means to Me."
Traveling with the white cane isn't always perfect. Accidents are bound to happen, but how should we handle them? In a post from 2014, Joe Strechay wrote about his white cane mishaps at Grand Central Station. Read how he handled the situation in "Celebrating White Cane Safety Day As an Individual Who Is Blind or Visually Impaired."
Having excellent orientation and mobility skills comes with some major benefits. Not only are you able to travel independently like a pro with your white cane, but you are more likely to be employed. That's right! Like Shannon Carollo mentioned in her post, this is the understatement of the year. Learn what you can do with this knowledge by checking out, "The Link Between Effective Orientation and Mobility Skills and Gainful Employment for People Who Are Blind or Visually Impaired."
What are some of your favorite memories from White Cane Day? Let us know in the comment section below!