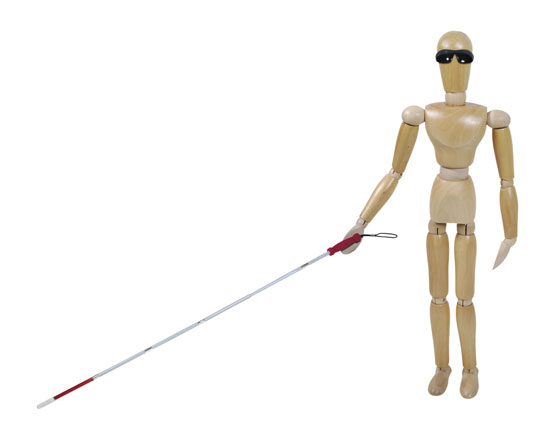 I had reached that point in my life where a decision needed to be made: to become a long white cane user or not.
It was the summer of 2001. Six years since the doctor diagnosed my eye condition. As the time passed, my vision slowly worsened. My ability to walk safely and independently worsened too.
I bumped shoulders with other people at the store. Walking dim hallways created anxiety for me. Basically, the growing blind spots in my field of vision were threatening my mobility and my independence. More importantly, I began working full-time, and I needed a safe, reliable way to get around.
The only choices which lay before me were simple: learn to use a white cane or endure the risks of failing vision.
I chose the cane.
It was important for me to safely move around my office and the building it was located in. Dim hallways, crowded elevators, and various obstacles posed difficult challenges to me.
Of course, learning to use the white cane had its own challenges for me. Mostly, emotional ones. I felt weak and embarrassed at first. Mentally adjusting to the change in my interaction with my environment was frustrating too. In time though, those feelings dissipated, and I began to master white cane techniques.
Finding my way into the office building and riding the elevator up to my office's floor became easier. Coworkers became more inquisitive about my eye condition and my needs. I had no problem sharing those details with them. Greater understanding grew out of that situation.
The long white cane helped me push beyond the visual limitations. My independence improved, and I was able to maintain my job. A renewed sense of confidence had set in. I no longer hugged the walls of those dim hallways for fear of bumping into someone. The cane did it for me! All I had to say was, "excuse me!"
Today, I am a guide dog user. However, occasionally I give the dog paid time off. While he relaxes, I break out the white cane. When I do, it reminds me about how far I have come in this journey and how far I still have to go. But, the cane was the spark that started it all.
October 15th is White Cane Safety Day. It is a day to celebrate the achievements of blind and visually impaired people and to recognize the importance of the white cane as a tool of independence.
Let's celebrate. Post a comment to share one of your achievements too!
Learn More About O&M on White Cane Safety Day
The Link Between Effective Orientation and Mobility Skills and Gainful Employment for People Who Are Blind or Visually Impaired
An Introduction to Orientation and Mobility
Indoor & Outdoor Travel Skills for Adults with Vision Loss
What Will People Think About Me if I Use a White Cane?
Dog Guides for People with Vision Loss