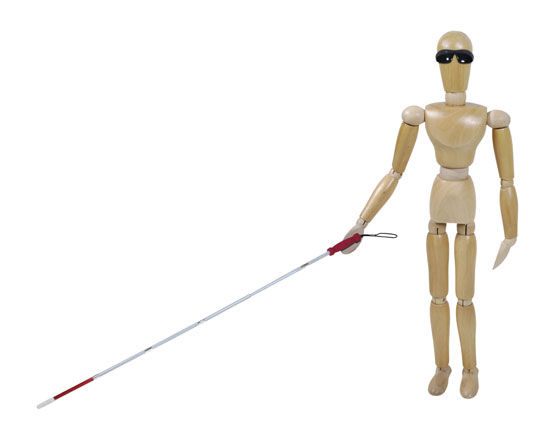 That is right, it is White Cane Day 2015, and Slim and I wanted to celebrate with a little trip down memory lane. I can remember my first white cane lesson in New Jersey where my instructor told me I was a natural. That is right, I was meant to use a white cane. The purpose of the white cane is to provide a tool to utilize for orientation and mobility. One of my professors from Florida State University's Visual Disabilities program told me that there are three purposes to the white cane:
The white cane is used for mobility and clearance as you travel through your environment safely and efficiently.
The white cane is used for identification, as it allows people to know you are blind or visually impaired. The white cane is an internationally known tool for individuals who are blind or visually impaired.
The white cane is used for protection from objects and even individuals.
White Cane Memories
I think back to an early white cane memory where my cane provided the identification and mobility I needed while traveling through airports. Instead of people being confused by my lack of competence in navigating through a dark area, people understood that I was visually impaired. People were more willing to provide guidance or assistance if needed.
My white cane provided me confidence when traveling around Florida State University, a campus of over 40,000 students. I think back to my days at East Carolina University, which I call PC, Pre-Cane. I had to memorize my path and use my feet to find curbs and such. I was nervous and uncomfortable while traveling. I also had a lot bruised and blood incidents with my shins. Always a fun one to explain to dates or women that you are interested in.
My white cane and orientation and mobility training provided me with more confidence to venture out to do so much more.
A professor at Florida State University told me once, watching me travel with confidence with my white cane made my blindness disappear. I just looked like a competent person traveling through the area. When you move confidently and competently, your disability vanishes.
My white cane provided me the confidence to provide tours around Florida State University to visiting students.
My white cane provided me confidence to tour people around Jersey City, Hoboken, and New York City.
My white cane has provided me the independence and safety to move up and down the East Coast on my own.
My white cane has provided me the confidence to explore new areas and environments.
My white cane allowed me the independence to go to the first presidential inauguration of President Obama and navigate from it back to a friend's place in Virginia.
The fact is that my confident use of my white cane has offered me many more opportunities in life. I tend to tell people my vision loss has made me a better person, bringing a new perspective. I am no superhero, but my life has brought so many opportunities.
As we celebrate White Cane Day and create a better awareness about the white cane and the associated traffic laws, I want to say thank you to my white cane, Slim, and all of the orientation and mobility instructors who provide the instruction. We as people who are blind or visually impaired need to be seen out in our communities, traveling with competence and confidence. We all have to keep our communities aware of the white cane and the meaning of it. The white cane and the White Cane Safety Law provide us the opportunity to be out and utilize our skills.
Take the time to find out how White Cane Day is being celebrated in your area. Share a White Cane social media post on your Facebook, Twitter, or through another medium. Make sure to do something to help create better awareness.
More on White Cane Day
Thoughts on My White Cane and What It Means to me
Celebrating White Cane Safety Day As an Individual Who Is Blind or Visually Impaired