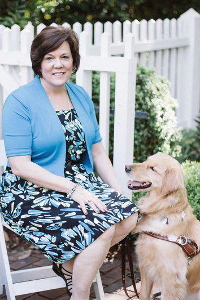 If you are a frequent follower of AFB blogs, you probably have heard of Audrey Demmitt, VisionAware peer advisor and blogger extraordinaire. But did you know that Audrey worked as a nurse for 30 years before she became a writer? Better yet, did you know that Audrey is also a mentor of APH CareerConnect?
In honor of the upcoming National Nurses Week, we decided to take some time this month to learn more about Audrey to see how she is inspiring others through her continued workplace and personal success.
Check out this preview of Where Are They Now? A Profile of Visually Impaired Nurse and Blogger, Audrey Demmitt!
After graduating from the University of Arizona, Audrey was on the fast track to finding workplace success. She had earned her degree and landed her dream job at a hospital, but life took an unexpected turn when she was diagnosed with retinitis pigmentosa. Audrey, 25 at the time, struggled with accepting and adjusting to her vision loss. She didn't want to lose everything she had worked so hard to achieve, so she tried to hide her vision loss from her employer.

"My vision loss is a progressively degenerative condition and so for years, I chose to hide it from my employers and co-workers," Audrey explained. "It was stressful, always worrying about whether someone was going to discover my vision loss and if I would lose my job."

In the early stages, Audrey continued to work at the hospital. She and her husband started a family, and she tried to imagine a world where her vision would stop deteriorating. Unfortunately, Audrey continued to lose her vision over the next few years making it more challenging to perform her job responsibilities.
Read more of Audrey's story in the latest "Where Are They Now?" article. Learn how she overcame her vision loss and found success!