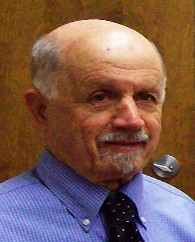 You might remember him as the successful cardiologist or maybe you know him as the Medical Director of Community Services for Vision Rehabilitation in Mobile, Alabama, but did you know that Dr. Joe Fontenot is also a long time mentor of APH CareerConnect?
We decided to take some time this month to reconnect with our friend and mentor, Dr. Joe Fontenot, M.D., CLVT, to see how he is continuing to achieve workplace success.
Dr. Fontenot started his career as a medical doctor almost 50 years ago, and while he explained to us that he is semi-retired, we know that his work is never finished. After working as a cardiologist for years, Dr. Fontenot decided to transition into the low vision field as a result of his first-hand experience with vision loss caused by macular degeneration.
"I became visually impaired at age 50, but I continued to work as a cardiologist for 14 years," Dr. Fontenot explained. "I was able to do that because I accessed all the things we try to make people aware of now- assistive technology. When I was about to turn 65, I decided to go into this field. I realized that most people who have vision loss didn't know this technology was available, so I decided to start a low vision practice."
Read more about Dr. Fontenot's career transition and his success in the latest "Where Are They Now?" article. Get Dr. Fontenot's advice on how to start your own career in the medical field!