Are you a fan of CSI or NCIS? Have you ever wondered how law enforcement determines whether a crime has been committed? Perhaps you have a taste for forensic science! If so, you are not alone.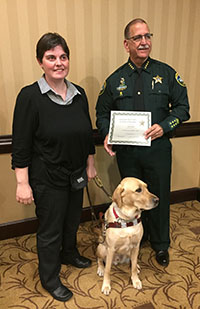 Remember CareerConnect mentor, Alexis Read? A few years ago she shared her CSI Experience in her Our Stories article, "Exploring Forensic Science As a Person Who Is Blind or Visually Impaired". Well, she's back at it again!
Alexis recently got the opportunity to attend the Leon County Sheriff's Office Citizens Academy, a hands-on experience with professional analysts and law enforcement officers.
If you are interested in a career in forensics or if you find this line of work fascinating, be sure to check out Alexis' latest adventure, Getting Hands-On with Forensic Science: Alexis Read's Adventure at Citizens Academy. Discover how she learned more about crime-solving techniques, the SWAT team, and how to use a taster and fire arm like the professionals. Read her story here!