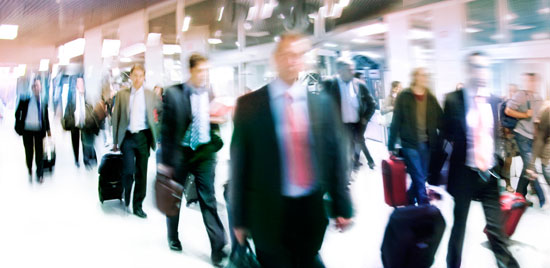 It's the end of the year—how are you holding up? Me? I am struggling to keep my eyelids open! Adding a brand new pup (Goldendoodle) to my regular workload and family responsibilities has proven to be tiring [ahem, absolutely exhausting] task.
Thankfully respite is drawing near…a holiday break!
I'll be using it to enjoy my immediate family and rest; how about you?
In the event you're venturing to visit family or explore a new area on vacation, here are some things you may want to consider as a traveler with a visual impairment:
Tips for Easy Holiday Travel
Read up on the airport layout before traveling. You can even access the restaurant guide in advance to plan your route to grab a bite on a layover.
Consider the TSA pre-check program to minimize the effort in the security checkpoints.
If you need specific accommodations at the airport, contact TSA Cares two days prior to your departure.
Consider an audible luggage locator to help you independently identify your luggage on the carousel; Ensure your luggage is also distinctly visually marked so that you're able to easily describe any missing luggage.
Load up your phone with useful apps for your trip! You can find ideas on the AFB blog. Accessible iPhone Apps such as a TapTapSee which will identify objects, a book player such as iBooks, TuneIn Radio to hear the news in your destination, FourSquare to locate nearby restaurants, and a GPS to get around the new location.
Consider contacting a service provider local to your destination by using our directory of services if you'd like to talk with someone knowledgeable about the accessibility of your intended journey.
If you're headed to a snowy destination, pack proper mobility tools (knitted mittens, a broad cane tip, tracks on shoes, dark glasses/hat for glare reduction, a fiberglass cane, and a backup cane) and don't hesitate to ask for assistance or sighted guide in an icy area.
Speaking of assistance, brush up on your assertive communication, as you will likely need to seek assistance and will (almost) definitely need to decline assistance.
If you're interested, see if there is a travel agency at your destination that's sole purpose is providing guides for travelers with visual impairments. May not be your cup of tea, but if you hate planning and are just particularly outgoing, it may be enjoyable and make your experience easy-peasy.
Lastly, take the time to plan your trip in advance. Know the locations, food, and experiences you want to encounter, and the best days/ times to enjoy them. With the right planning, attention to details, route development, and phone calls (to inquire about making the visual experience meaningful to you), you'll make the most of your trip.
Tell us where you're headed!
Resources for Taking a Vacation As a Visually Impaired Adult
Travel Independently and Interdependently As a Professional Who Is Blind or Visually Impaired
Holiday Travel Ideas and Tips for Individuals Who Are Blind or Visually Impaired