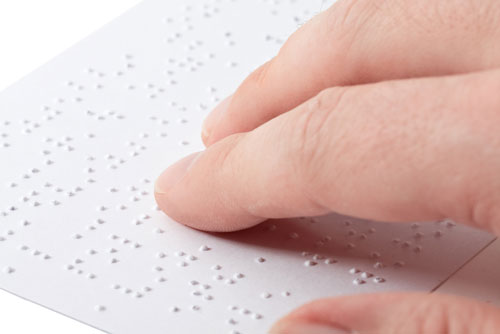 When you think about the "Top 10" skills employers look for, what comes to mind? What about communication, teamwork, and problem-solving skills? Maybe even time management or leadership ability. While all of these skills are important to employers, there is one universal skill that is necessary for all employees-to-be regardless of the position.
Can you guess what it is? What skill set do you think that all employers expect in a potential employee? Literacy skills!
Literacy skills help you gain the knowledge and know-how to perform your job, and while this means reading print and using media and technology for your sighted peers, it means something slightly different for someone who is blind or visually impaired.
As someone with vision loss, having excellent literacy skills means knowing and implementing braille and understanding how to use assistive technology. Think about it this way, braille is a way for you to be able to read for yourself instead of listening to a screen reader. Listening to text and reading text are two separate things.
And while you might think that you will "never use braille", I would reconsider. There are all types of careers that require you to have an understanding of braille in order to navigate through your environment or even to be able to properly perform your job. Need proof? Check out how these mentors use braille on a daily basis on the job or read any of the other Our Stories articles:
In fact, there is a correlation between braille literacy skills and employment. Those who know braille tend to have jobs while those who do not know braille are still unemployed. If you want to turn your employment status around this year or improve your braille literacy skills, now is the time.
Check out these 16 Braille Resources from the American Foundation for the Blind to get you started!