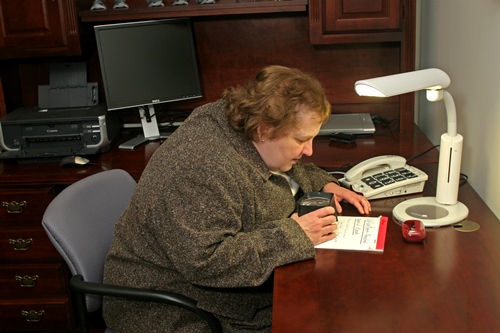 Are you an older job seeker looking to return to work? Deciding if you want to continue or return to work after vision loss is a great first step to regaining your independence. You can earn additional income, learn new skills, and develop a sense of accomplishment. In fact, there are many reasons why older workers can benefit from reentering the work force. But after deciding you are ready to get back to work, you have to go through the process of finding the right job for you.
So how can you find gainful employment as an older worker with vision loss? Simple! With the help of CareerConnect and VisionAware, you can get yourself on the right track with these top 3 ways for finding the perfect job.
# 1 Explore Your Opportunities
If you don't discover what is out there, how can you expect to find a job that you will look forward to each day? By exploring different work opportunities, you can decided exactly what type of position will work for you, your background, and your specific skill set. Ask yourself questions. What am I good at? What do I enjoy? How will I perform the job with my visual impairment? Develop an understanding of what you're interested in and find jobs that fit the bill. If you need some inspiration or encouragement, check out any of the Our Stories from CareerConnect.
Interested in learning just what an older worker with vision loss can do? Meet Larry Johnson, the jack-of-all-trades impacting his community.
# 2 Understand Today's Job Search
Much has changed on the job scene in just a few short years. Employers are taking applications and resumes online, learning about potential employees on social media, and expecting you to keep up with the rotating technology. Don't get left in the dust. Just because you might have taken some time away from work doesn't mean that you are not capable of competing for a job in this new market. Discover what you need to know by checking out these 10 steps to start your job search.
# 3 Use Tools to Find Employment
Take advantage of tools available to you. CareerConnect offers many free job-search tools, but you can also find job leads using your own personal resources. You can use your network of friends, family, and previous employers to get the inside scoop on open positions that might be right for you. You can log on to your social media account (Facebook, LinkedIn, Twitter, etc.) to search for new information. You could even join a professional organization or attend conferences to learn of potential job opportunities. Whether you get the job or not, no job lead is a bad one. Each lead offers an opportunity to learn.
More Information for Older Workers
Why Older Workers Who Are Blind or Visually Impaired Should Continue to Pursue Employment Opportunities
Resources for Job Seekers Who Are Blind or Visually Impaired and Over Age 50