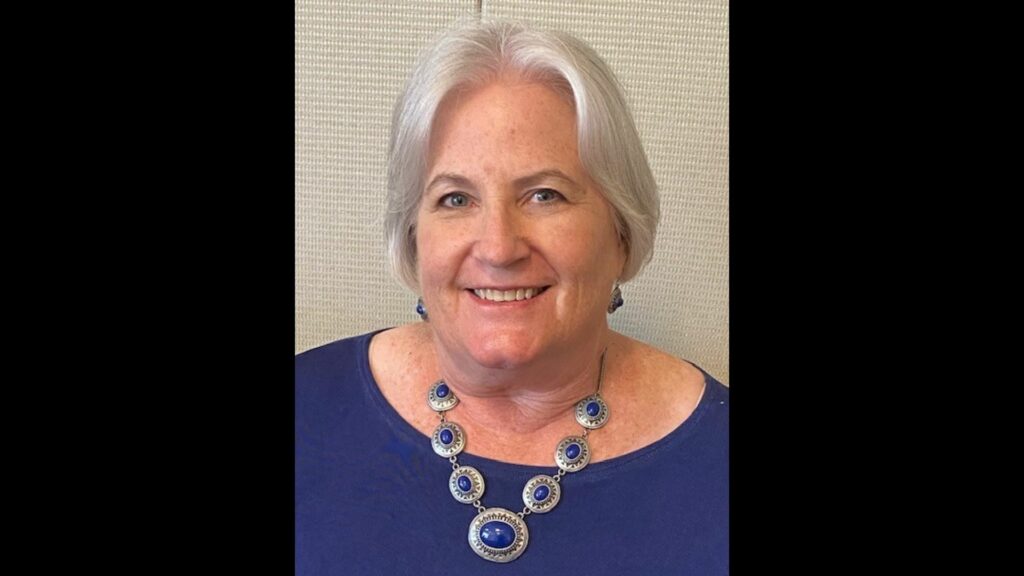 Zelda Gebhard doesn't identify as a person with low vision, because she's so much more than that.
"I'm a whole person," she says. "Along with my career, I'm a wife, I'm a mother and a grandmother. I have a full life with interests and hobbies. I'm not that much different than a person who doesn't have vision loss. I just do things differently than other people might do them."
Born with Stargardt disease, for years Zelda didn't realize there was anything unusual about her vision. She'd attended school, graduated from college, and gotten married before starting work as a medical transcriptionist when she was 20 years old. That's when she noticed that her eyes became tired very easily. She still had 20/20 vision on the eye doctor's charts, although she says she had to spend some time figuring out the letters.
That didn't slow her down, though. For the next nearly 15 years, Zelda transitioned through jobs at the hospital including working in health care administration, as the director of outpatient services managing the clinic, and overseeing the outpatient clinics and working with the doctors who came to town.
Being flexible to accommodate her vision
Soon after she was finally diagnosed at age 34, Zelda decided it wasn't safe for her to drive. She and her husband, Steven, have four sons, so she stayed home caring for them for a while. But she missed her work, so she began working with a company that outsourced medical transcription, which she could do from home.
Later, Zelda and Steven found an even better solution: She started working in the office of their real estate agent, and it was convenient for Steven to drop her off on his way to work. She handled general office duties, such as filing, answering the phone, updating the customer database, and more.
"It was good for me to get out of the house," Zelda says, "especially since the kids were all off to school by then."
Learning new skills over time
Zelda spent 18 years in that position – staying even after the original owner sold the agency – until COVID hit. The office was across the hall from a pharmacy, and because she has an autoimmune condition Zelda felt it was safer to retire, especially since she was close to 65 years old.
Of course, because Stargardt disease is degenerative, her vision did deteriorate over time. She admits that although both of her bosses were great to work with, she often had to advocate for herself.
"Sometimes they would underestimate what I was able to do and not ask me to do certain tasks," Zelda says. "But they were willing to let me try and prove to them that I could do it. I think it's hard for someone without vision loss to imagine how we can do things, but I proved again and again that I could do them."
For example, she learned to use the all-in-one printer/fax/scanner by memorizing all the buttons. Because she couldn't read the caller ID on the phone, she became very good at recognizing people's voices when they called. Because Zelda has lost vision gradually, she says she's had "the luxury" of learning new things over time.
"There's a little bit of satisfaction that comes from conquering a task that takes a little bit of figuring out how to do it in a different way," Zelda says. "Especially with all the technology available today, it's easier than ever to remain productive and independent. It's not easy – it takes some perseverance and a willingness to continually learn new things. But otherwise, we can get left behind."
Staying active in retirement
Zelda may be retired now, but she's as busy as ever. For five years, she served as the president of the North Dakota Association of the Blind, an affiliate of the American Council of the Blind (ACB). Prior to that she was the vice president and editor. She also serves on ACB's board of publications and two other national committees. In addition, she's the first-vice president and membership chair of ACB's Council of Citizens with Low Vision International (CCLVI). She's also an active member of community organizations including her church.
Although she uses a video magnifier and has magnifiers all over the house, Zelda has enough vision left that she hasn't transitioned to a screen reader yet. She only needs a cane when in unfamiliar places, and continues to enjoy gardening and sewing, thanks to an attachment that helps guide straight seams on the machine.
"I once met a man who was totally blind, and when I asked him what he enjoyed doing he said he liked taking apart things like lawn mowers and putting them together again," she says. "I thought, 'If he can do that, there's plenty I can still do.' I think we can encourage one another to be all that we want to be."
Learn more:
Zelda shared even more about her career experiences and adapting to changes in her vision. Watch her Career Conversation interview: