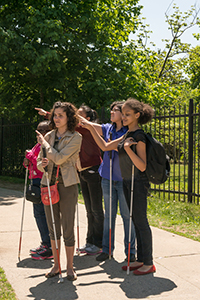 Hey guys,
It's difficult to formulate my thoughts because all I am doing is singing "This one goes out to the one I love; this one goes out to the one I left behind" in my head; It's on repeat; make it stop! Do you know that R.E.M song? You might not; it's an 80's song and I'm an 80's child.
I'm thinking about that song because, and this might sound insincere but it is not, I really love you middle and high school gals and guys. Man, this is a difficult season and I care about you as you walk through it. I know 90% of you (I made that percentage up, but I aired on the side of caution) feel left behind, out of place, and like you're not going anywhere. It's lonely and it feels like it will last forever.
I'm 30 now, but I remember those middle and high school days vividly. I remember, high school days particularly, because they were very painful. I was bullied relentlessly; I felt lonely; I wanted time to speed up. I wasn't blind or visually impaired, but I had (and still have) practically-translucent fair skin, red hair, and freckles that outnumber the constellations (or so it seemed to me.) Don't get me wrong, that's a beautiful combination, but if there's ever a time you wish you didn't stick out, it's middle and high school.
All that to say: I don't know exactly what you face as a teen with a visual impairment, but I do know it takes courage to accept yourself. I wish I could show you an easy route to self-acceptance, but it's a journey that takes time. Can I at least put you on the right trajectory or pathway?
Focus, today, on what you are thankful for. This is very (repeat, very) important. You get to choose to focus on what you despise or what you appreciate. Like I tell my six and four year old daughters, "You can choose to be miserable or choose to be thankful."
If your goal is self-acceptance, pay attention to who you are; you can't accept what you don't know. Think about what you enjoy; school subjects that interest you; what you are good at; what you are not naturally good at; and what you dislike. Your blindness or visual impairment is only one attribute of you; discover the rest.
Find support. Meet others who are blind or visually impaired in your school system, through a summer Transition program, and via online message boards and groups. You are not alone; take some time to laugh (or cry) about the hard stuff with others who understand.
If you start to feel there's no way you will have a happy, productive adult life, take a few minutes to read the "Our Stories" section of CareerConnect. Reading the success stories is a good reminder that you can be successful in any number of hobbies and jobs with the right tools, training, skills, and preparation.
There's something about finding a volunteer position that increases our satisfaction. Maybe it feels good to care for and think about others instead having a thought life consumed with our own needs and insecurities; maybe it feels good to be productive; maybe it feels good to learn new tasks and skills; maybe it feels good to maintain responsibility. I'm guessing it's all of the above.
Make lifestyle choices that will set you up for a positive thought life and bright future. Suggestions include hanging out with friends, eating well, persevering in academics and blindness-specific training and tools, staying active in activities you enjoy, and participating in stress-relieving activities.
Teenagers, standing out becomes a pretty cool thing in the "adult world" if you are kind and respectful to others, and if you accept yourself.
Middle and high school years, the years many crave conformity, are short-lived in the grand scheme of life. There's a light at the end of the tunnel and you must put one foot in front of the other to arrive at your destination. In order to move forward, apply some of the advice I provided and you will grow as you go.
We at CareerConnect want to support you. If you have specific questions or concerns, write a message on the CareerConnect message board for teens who are blind or visually impaired.
Your cheerleader,
Shannon Carollo