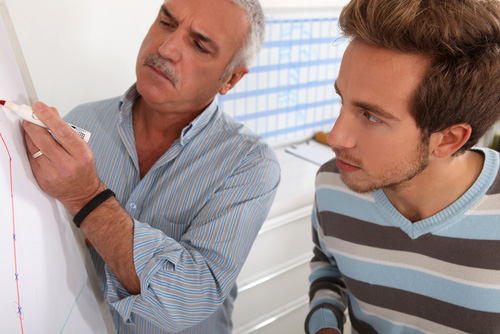 Go here with me. You're the owner of a downtown, trendy juice bar and are looking to promote a current employee to manager. What are you looking for in a potential leader?
Might I suggest a few key attributes?
A person of integrity.
An individual with a kind, firm disposition.
One who can do more than follow orders, but can identify issues and invent solutions in effort to reach end goals.
I don't want to spend much time on the first two attributes. You know dishonest tendencies are a "fatal flaw" in the work department. And to learn more about a kind, firm temperament, read Is Your Communication Style Passive, Aggressive, or Assertive? Now if you're a teacher of consumers who are blind or visually impaired, utilize the Assertiveness Training Lesson Series.
Let's focus on the third attribute, "an inventor of solutions". This type of employee can take a step back from his routine to gain perspective on the goals of the company. He can see you, the owner, desire to maximize profits, serve delicious and healthy juices and smoothies, maintain a clean and safe store, maintain employee satisfaction, maintain customer satisfaction, and acquire new customers. With your goals in mind, the right prospective manager can recognize problems and potential problems, and think critically to devise solutions.
Most employees are direction-followers, but it is a leader who is a strategist. Like a skilled chess player who plans her moves and countermoves, a leader moves toward end goals while continually reevaluating her tactics.
When considering a current employee for a promotion, maybe you'd think back to Diana who creatively solved a customer's concern. Maybe there was a time Abe suggested a new juice flavor combination based on an up-and-coming flavor or health need. Perhaps Jay foresaw a clash in employee temperaments, and recommended a compromise to dispel a beginning quarrel. Or was there an occurrence when Finley suggested a cost-saving technique?
You see where I'm going with this. I want you to be the strategist and I want you to be promoted. To help in your problem solving endeavors, read Solving Problems at Work and The Fundamental Reason You're Hired and How to Use it to Your Advantage. If you are an instructor of consumers who are blind or visually impaired, utilize the Problem Solving Lesson Series and the Leadership Training Lesson Series.
Again, in order for us to promote in our careers, we must be people of integrity; have kind, firm dispositions; and we must achieve more than follow orders, but think like strategists to reach the goals of our companies.