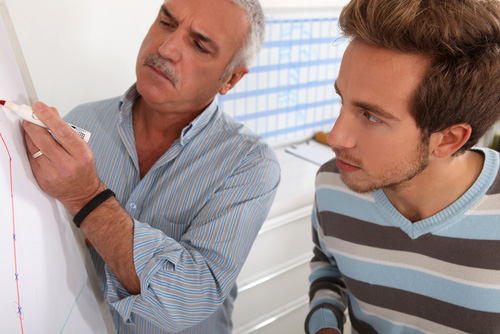 As the 12 Days of APH CareerConnect continues with the second day of tips and advice. With the holidays quickly approaching, everyone is excited to spend time with their friends and family, but don't forget to make time for your mentors. Mentors often play a bigger role in a job seeker's life than they realize. It is important to thank your mentors for offering their guidance and knowledge of the field. It is even more important to maintain these relationships as we enter into the New Year.
Having a mentor can make all of the difference when looking for a new job, but how do you connect with a mentor? APH CareerConnect makes it easy for job seekers who are blind or visually impaired by offering the CareerConnect Mentor Program. Our program puts you directly in touch with a mentor in your field of interest. These mentors have volunteered their time to answer your questions and provide advice about employer expectations, job requirements, education and training, salaries, and the future prospects of your field.
So in keeping with the 12 Days of CareerConnect, here are 2 ways to connect with a mentor:
Option 1 has two steps. First step, Send a Connection Request– A connection request is like a friend request on Facebook or a follower request on Twitter. It allows you to connect with mentors or CareerConnect users. This is often the first step when trying to get in contact with a mentor in your field of interest.
Step 2, Private Message– A private message or a direct message is a note from you to a specific user. If you have a question for your mentor or if you want to learn more about their job, sending a private message is a great way to make a connection. For more detailed information on this, read the instructions now.
Option 2, Use the APH CareerConnect Career Clusters, explore careers, and connect with a mentor through the message boards. You can get some general input on your career questions through the APH CareerConnect Career Clusters.
Connecting with mentors helps you conduct a successful job search. Their insight can give you a better understanding of a specific career field. All of our mentors even have some level of vison impairment or blindness that makes them excellent sources of firsthand information.
So make a new connection today and register for APH CareerConnect! Take the time to read the CareerConnect social networking platform instructions.
And don't forget to wish your mentor a happy New Year!