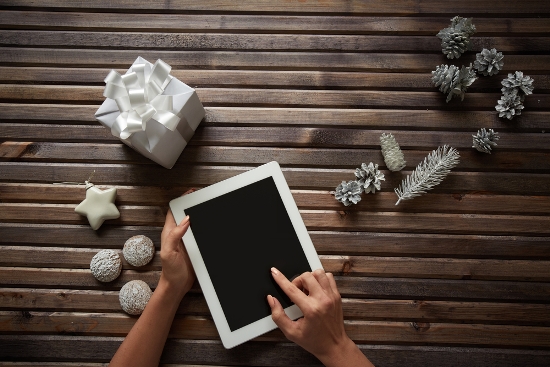 'Tis the season for frosty weather, hot cocoa, and gift giving. Maybe you appreciate the frosty weather, adore the hot cocoa, but are anxious about shopping? Do you feel clueless as to what to purchase for your career-minded son or daughter, sibling, spouse, friend, neighbor, or colleague with a visual impairment? It's time to relax; I've done the thinking for you, which means you can spend more time sipping cocoa by the fireplace.
Oh, one more thing. While the gift recipient does have a visual impairment, remember he or she is first a person. And people have varied interests and Christmas and holiday wish lists. For that reason, please review these ideas and tailor them to your family member, friend, or coworker.
Consider experiences he or she can enjoy with company. Your career-minded family member or friend may need a bit of stress-relief. You could purchase concert tickets for your son and his buddy, a restaurant gift certificate for your colleague and his wife, theme park tickets for your spouse and yourself, a spa treatment for your sister and yourself, or movie tickets for your neighbor and his spouse. The gift of quality time, entertainment, and stress relief is always a good choice, whether visually impaired or fully sighted.
Consider a gift that can help your family member progress in a new or longstanding hobby. You could purchase lessons (cooking, dancing, musical, singing, swimming, skiing, woodworking, horseback riding, or sporting); purchase upgraded or required hobby equipment or attire; or purchase items that allow the hobby to be accessible to a person with a visual impairment (adaptive cooking supplies, organizational tools, upgraded lighting, labeling items).
If the receiver (a family member) would appreciate it, consider giving a practical gift. What does your family member just plain need? A more easily accessible remote, a GPS, a note-taking device, an accessible watch or clock, talking calculator, or a new magnifier? Perhaps you could add batteries or ear buds as a stocking stuffer. How about updated work attire? BBC suggests gifting services such as sessions with a resume writer, new business cards or a LinkedIn headshot.*
Consider giving more of what you know your friend already enjoys. If she enjoys listening to music and downloading smart phone "apps," purchase an iTunes or appropriate gift card. If she enjoys reading, find out how she accesses books (braille, audio, large print, or regular print with magnifier use) and purchase a book or appropriate gift card. If she, like me, enjoys coffee and chocolate, that's easy; she can never have enough!
If you're searching for accessible items specific to vision loss, check out the AFB Holiday Gift Guide and use AFB's product search.
I hope this saves you time and provides a variety of relevant suggestions. Happy shopping!