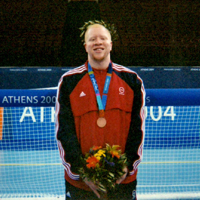 We continue the countdown of the 12 Days of APH CareerConnect, like the 12 Days of Christmas, but with our CareerConnect spin on the countdown. Here is the eleventh day of APH CareerConnect. Are you still unsure of what career is right for you? Check out these eleven popular real life stories about the professions of CareerConnect mentors! Maybe one of them will give you an itch to learn more. Just click on the job title and off you go!
11 Mentors Profiled on APH CareerConnect
11. Machinist: Have you explored the world of metal work? Read this story to learn how one of APH CareerConnect's mentors makes it work as an individual who is blind or visually impaired.
10. Financial Analyst: Read how this mentor succeeds in work and as a United States Paralympian. He scores in the workplace and on the goalball court.
9. Interior Designer; Are you creative and looking to set homes, offices, and spaces apart from the rest? Read how this mentor designs and shows off the final product.
8. Audio Engineer or Producer: Are you apt to edit audio pieces? With a lot of organization, talent, and technology skills, this mentor creates the right track.
7. Middle School Teacher: Are you interested in managing a classroom and shaping young minds? This mentor educates our future in the classroom.
6. Rehabilitation Research Engineer: Are you interested in statistics and making a difference? This mentor is researching the trends and the studies that will help others.
5. Legislative Liaison: Do you stay up to date on the latest policies and personable? This mentor stays apprised of the latest policies that impact her agency.
4. Documentary Filmmaker, Journalist, and Writer: Are you creative, organized, and a skilled writer? This mentor and filmmaker shines a light on important subjects on film or in print.
3. Nursing: Are you detail oriented and interested in healthcare? This field offers the chance to interact with patients, practice medicine, and make a difference. Nursing is not all measuring an individual's blood pressure and surgery. Find out more from this piece.
2. Cancer Genomics Researcher, Biomedical Physicist: Do you excel in the sciences and mathematics? This researcher is mapping the next medical discovery related to cancer. Read how this mentor succeeded in the biomedical field.
1. Technology Associate: Are you into the latest technology and the programming behind it? This mentor is making a difference in the accessibility of mainstream and assistive products, websites, and the latest apps.
We only highlighted 11 of our over a hundred Our Stories profiles and other pieces about successful mentors and individuals who are blind or visually impaired. Go back and check out the rest of the stories and navigate by our cluster categories to find so many more. Take the time to learn from the path that each mentor traveled to find success and create their own employment story.
Make sure you stay up with our 12 Days of APH CareerConnect, as we count down toward Christmas, the holiday season, and the New Year. Don't miss the tips or advice that will lead to your next job. You can track the CareerConnect Blog to make sure you catch each post as it is released.