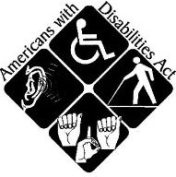 This month marks the 25th anniversary of the Americans with Disabilities Act (ADA)! This great accomplishment has helped people all across the country in employment, housing, health care, education, public transportation, and parks & recreation.
Although ADA covers many aspects, I am especially excited to celebrate how Title 1 of ADA has helped blind and visually impaired job seekers achieve gainful employment. Since it was signed on July 26, 1990, ADA has helped calm the concerns of employers and employees when it comes to addressing a disability or accommodations in the workplace.
So in honor of this landmark anniversary, I am encouraging you to find a way to celebrate. Whether it is through some 25th anniversary ADA event or spreading awareness in your local community, try to find a way to share how ADA has positively affected your life.
When I was deciding how I wanted to celebrate, I thought this was an excellent time to help young job seekers know what to expect when applying for a new job. As a recent graduate, I understand how finding that "first" job can be intimidating, but with the right preparation it can be a breeze.
First things first. Whether you know ADA by memory or you don't have a clue about the legislation, it is important to have an understanding of how it can help you as someone with a disability.Know your rights and make sure to review how ADA can protect you.
Even if you have an understanding of ADA, it can still be difficult to know what to expect. In order to be protected by ADA you must disclose your disability, but disclosure is your decision alone. Some job seekers choose to inform their potential employer about their disability prior to the interview while others choose to wait to disclose this information. This is a decision only you can make. Be sure you are confident in the way you wish to discuss this with your employer or if you even want to disclose this information at all. For more information on disclosure, check out the Job Seeker's Toolkit.
So if you decide you want to disclose your disability, you will want to explain it in a way that helps the employer understand your vision loss. It can be beneficial to describe how it will affect you in the workplace and what accommodations will help you succeed in your potential position.
Many employers are often unsure how to react around someone with vision loss. In fact, you might be the first person they have ever interacted with who has a visual impairment. However, this should not discourage you. This is your chance to stand out to your potential employer. Make your disability an advantage.
When I first started my internship at AFB, I didn't have much experience working with someone who was blind. Although my dad has vision loss and I have friends who are visually impaired, I did not have any experience working with them in a professional setting. I was concerned about what I should say or how I should act. I imagine many employers have a similar feeling. Fortunately, Joe was very open with me and that made me feel more relaxed during the interview process. Moral of the story, discussing your disability with your employer can make the process much easier and more relaxed if this is the path you choose.
So after you have made your decision on disclosure, what else can you expect during your first job interview?
The employer will probably want to discuss some of the following:
Your strengths and weaknesses
Your commitment to the potential job
Your work ethic and work personality
Your biggest accomplishments
Your questions and concerns about the position
Although these talking points may vary from interview to interview, the best way to nail any interview is to prepare. So if you don't know any other way to celebrate ADA this week, check out some of CareerConnect's free resources and find a job. Getting hired is a rewarding experience. Take advantage of your opportunities and find your workplace success!