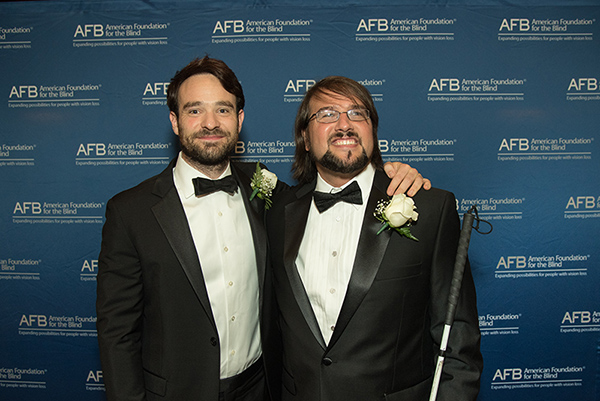 You might have heard that the American Foundation for the Blind presented Charlie Cox with a Helen Keller Achievement Award on Thursday, June 18 in New York City. Apple Inc., Vanda Pharmaceuticals, and Ward Marston were also presented with AFB's Helen Keller Achievement Awards. I have voiced my love for Apple on our blog in the past and that definitely continues after meeting some of their accessibility team at the event. I have also blogged about Vanda, as I did a podcast for them on advice for dealing with employment issues associated with Non-24. The third recipient, Ward Marston, is a magnificent musician, and he is a Grammy winner for his work in the restoration of various forgotten classics.
Our good friend Charlie Cox was provided this honor for his preparation and the portrayal of the Marvel's Daredevil character, Matt Murdock. The award was for all of the consideration and care that he put into the preparation for Matt's use of blindness skills in the typical life moments versus the superhero moments. Though, I personally love all of the above, and I have watched the full season three times over. Besides that, I was provided the opportunity to consult on the blindness aspects. But, I can tell you the Charlie is deserving of this award, as I only provided suggestions and lessons on the blindness basics. He took ownership of it and brought it to a high level. You can read my past blog post about working with the show.
On June 19, this story went live on TheMarySue.com with an interview with Charlie Cox. If you haven't read this piece, I especially liked it. I think the reporter did a great job besides the mistake about NFB in his question, as we are AFB, the American Foundation for the Blind. He put together a fantastic piece with great questions and his own personal thoughts. The author's father is blind, and I feel that brought another level of intimacy with the topic.
You will read some interesting questions with fabulous answers from Charlie Cox. Take the time to read the article today!