Are you looking for summer work?
Are your computer skills the envy of the dorm?
Do you have work or volunteer experience on your resume?
If you have not landed a summer job yet, it is not too late.
So check this out. First, let me say I had never heard the phrase, "digital nomad" until a few days ago. USA Today published an article called, "5 Summer Jobs You Can Take with You to the Beach." I like the beach. Just returned from one a week ago, so it caught my attention.
Have you heard of this before? Digital nomads are defined as "people who work from wherever they want, whenever they want, and for some, as many or as few hours as they want."
As the article points out, digital nomads are workers who rarely, if ever, step foot into an office. Thanks to the growth of the Internet and advancements in hardware and software, people who choose to work in this manner experience quite a bit of freedom.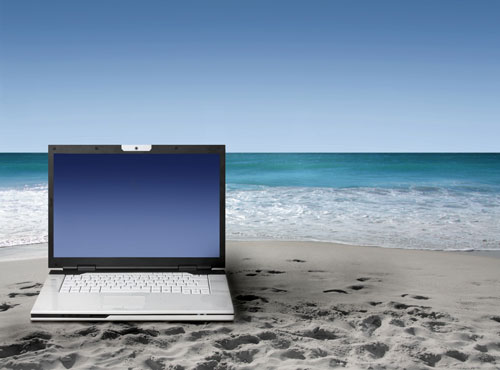 Becoming a Digital Nomad
Here is all you need to become a digital nomad based on the article:
A laptop computer
An Internet connection
Experience working remotely and independently
I would add the following skills as necessary to work as a digital nomad:
Jobs for Digital Nomads
Finally, the article highlights five job categories suited for summer job seekers:
Teaching or tutoring
Writing, proofreading, and editing
Online community management or social media management
Google Ad Words certified consultant
Virtual assistant or executive assistant
Working as a digital nomad is typically short term, perfect for summer. As an added benefit, you can compile valuable work experience. Oh yeah, extra cash in your wallet is great too!
Maybe some of you teachers reading this want a side hustle too. What a great way to earn more money and learn about being a digital nomad. Excellent experience for sharing with your blind and visually impaired students.
A word of caution: Learn how to investigate work at home job listings for legitimacy.
Lastly, toss the sunscreen into the beach bag before you go!
Finding Jobs As a "Digital Nomad"
Explore the following resources to determine which jobs can allow you to work as a "digital nomad."
Explore Careers for Job Seekers Who Are Blind or Visually Impaired
Conducting a Successful Job Search
Browse Jobs by Career Clusters