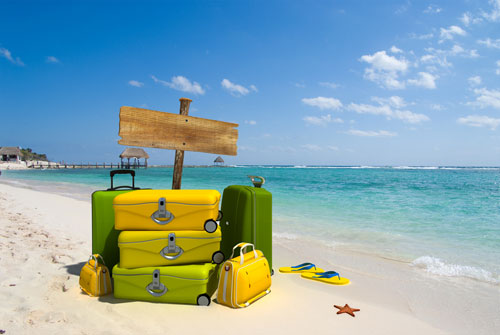 More than 50 percent of Americans take vacation time in the month of July, and of that 50 percent most will travel in the second week of July. Welcome to the second week of July, and welcome to our next summer challenge: Vacation.
You may think that while summer challenges are to keep your mind and energy focused on the work place and job efforts, taking a vacation away from work would be the last thing to advise. Well, lucky for you and the rest of us science tells us that vacation time away from work is not only good for you, but will increase productivity and well-being.
A few selling points on why a vacation this summer will help your work drive and your well-being include:
Vacations are planned, physical and mental health issues are not. It is proven that both jobs and careers lead to immense stress in workers. Taking a vacation away from stressful work duties allows for a more positive and rested mind and body. Don't take stress and mental or physical health lightly; take care of yourself when you feel you may be taking on too much at work.
Work is only work; don't forget your family and friends. It's easy to take on too many hours, or spend overtime at the office. But what about your sons or daughters sporting events or your aunts and uncles birthdays? It's okay to hang out with your friends occasionally outside of the office. Spending time away from work and work related calls and emails helps create a better personal life which in turn helps create a more positive attitude in the work place.
Time off makes for a happier work place. When you are well rested and take time away you come back to work more positive and fresh minded. Especially in fields of work where creativity is a necessity, time off can create a boom of new ideas and faster work pace when employees come back from time off.
It may not be practical in your current standing to get time off for vacation. This is understood, but easily worked around. So what do you do if your summer isn't foreseeing vacation time? Treat days off as vacation. Take small trips, stay in at home and enjoy rest, exercise to relieve stress. There are multiple ways to manage stress from the work place until time comes that your job allows you vacation time.
Maybe money is an issue blocking your vacation plans. This too is understood, but manageable. A nice suggestion for saving money comes from a family favorite of mine. My parents have always had a giant jar, well more of a vase—but I won't be the one to argue with them, that they have used specifically for vacation money. Spare change always makes its way to the jar, and after whatever amount of time it's fun to count the money together and use the money saved on an upcoming vacation. Until you've saved enough, some short-term ideas that are sure to be a pleasing vacation for those on a budget include:
Limit travel to only a few hours away.
If you enjoy outdoors, save money on hotels and enjoy camping.
Pack food or grocery shop at your destination to save on restaurant spending.
Leave the souvenirs and spend more time enjoying the new surroundings.
Research your destination ahead of time for fun free activities during your stay, you may be surprised at how much you can do on a budget!
Enjoy your vacation time whether it is spent traveling away or if its' staying home away from the phone and computer reading or watching television.
If you are traveling, brush up on these helpful travel tips for someone who is blind or visually impaired.
The challenge this week is to better yourself by taking time for yourself. Vacations and time off are needed to better us outside of the work place so that in return our work ethic is stronger in the end. So enjoy yourself this summer!