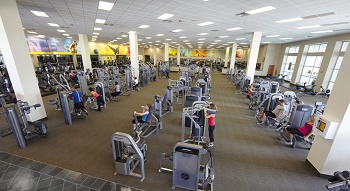 Summer is a great time to get back in shape. After being inside for months and eating more than we should, the warm weather is the best encouragement to get outside and get physical.
Being physically fit can help improve your overall quality of life. By staying active and eating well, you can improve your heart health, build strong bones, and start to look and feel better all around. And believe or not, but a healthy lifestyle can also improve how you feel at work! People who are in shape report having more energy, improved self-esteem, and can better manage work-related stress.
So this week we are challenging you to get physical! Are you willing to accept this challenge?
Starting an exercise routine after work is a great way to relieve stress from a busy day, but don't get stuck doing the same old thing. It is important to implement the following into your weekly workout routine:
Cardio
Strength Training
Flexibility
Endurance Training
Cardiovascular exercises include anything that gets your heart pumping. Try running, jogging, hiking, swimming or cycling this week for more than 30 minutes to get the best results. As with any workout, it is vital that you consult a doctor before starting any new workout routines.
Strength training helps create the strong bodies and minds that we need to get through the day. Lifting weights or doing push-ups and pull-ups is a great way to loosen up your gears and build endurance.
Although all elements of physical fitness help our aging bodies, flexibility can create improved mobility. Stretching and yoga can reduce tension, pain, and stiffness after sitting in a desk chair all day long. From my own experience, yoga is a peaceful way to whine down from a stressful day and relieve back and leg pain.
So pick a workout and get started today! Don't let those "I can't" attitudes creep in. Don't let your visually impairment stop you from being physically fit. There are many solutions and alternatives that can help create a safe workout routine for anyone. The following are just a few solutions that you can implement to improve your workout safety:
Using a guidewire system for jogging on a track
Help from a sighted guide for running outside
Accessible workout equipment at home or a local gym
Tandem bicycles
Stationary bicycles
Workout videos for the blind and visually impaired
Accept today's challenge to better yourself…and remember, have fun getting fit!