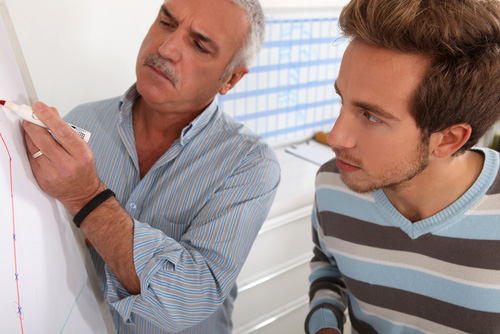 Although it is not officially summer, we have indeed approached the summer months! The weather gets hotter, sometimes our drive slows and our need for a vacation kicks into high gear. This is normal. So while the sun drains us into a state of day dreaming of beaches, we need to challenge ourselves to stay on track. That's why this summer we here at APH CareerConnect are challenging you readers each week with a new task…just to keep you on your toes!
This weeks challenge is simple: connect with a CareerConnect mentor. Connecting with a mentor will:
Start you on your job searching journey if you have yet to travel down that path.
Help you get answers to all of your employment and workplace questions.
Make you a new contact in the work force. We can never have enough contacts!
Connecting with a CareerConnect is a very important stepping stone for people who are starting the job searching process and are in need of guidance. But even if you are already employed doesn't mean that connecting with a mentor won't help you. Maybe you are thinking of switching career interests? Connecting with a mentor in a different field than your own is a perfect way to 'test drive' new career opportunities before making drastic decisions.
Now, have you accepted the challenge? Good. Let's get you started on how to connect with your future mentor.
First: You must register to be able to use the My CareerConnect features including mentor searching.
Secondly: You are ready to search for your future mentor. On your account there is a tab titled "Make or Manage Connections", this is where you need to be. From here you should click the tab "Mentor Search". We have a variety of mentors in countries all over the world. The search is easy, click your desired country from the drop down menu and then type in a key word related to what kind of mentor your seeking. For example if you are seeking a career in public relations, your key words may be "public relations".
Lastly: You've made it! Now choose the mentor that best fits your needs and get to connecting! If you are in search of some questions and tips on contacting your mentor, don't forget to check out these tips!
So while you start to let summer take you away from reality, challenge yourself to stay on track with your ambition and career search. Accept this weeks challenge and let a CareerConnect mentor help you!