Lessons Learned from Experience
Let me start by saying I feel it is important to disclose a visual impairment during the hiring process. Especially, if a visual impairment is known and if a reasonable accommodation will be needed.
That opinion comes from trial and error in my own experiences.
I know the inner struggle very well though. I wanted to earn the jobs on my own merit and my own abilities. I did all I could to avoid my visual impairment from being interpreted as a weakness by others.
Shortly, I will share with you four times I was in this situation. As I recollect, I was conflicted about the timing of such a disclosure. My hope is that these stories give you a real life look into these kinds of situations and their potential outcomes.
If you have followed my previous posts, you know it took many years for my eyesight to deteriorate to the point that I can only perceive light. With that in mind, let me get started.
Story #1: Disclosing a Disability for a Part-Time Job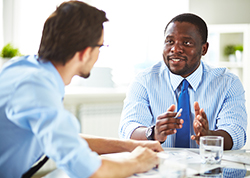 I worked a couple of part-time jobs while I attended college. In particular, I worked for a credit union as a customer service representative. It was during this time that I was diagnosed with retinitis pigmentosa.
Naturally, I had to request time off for the doctor appointments. It forced me to communicate with my manager about the situation. Finally, after the diagnosis was official, I disclosed it to my boss. Primarily out of respect for asking days off and to satisfy her interest in my situation.
However, it created no major issues at work. In fact, they asked me to do more. Management cross trained me to work in two other departments, both of which required me to work face-to-face with customers. Amazingly, there was no need for me to request reasonable accommodations during my five-year stint with them.
Story #2: A Rough Transition
I touched on the next experience in my post called "Avoid a Rough Transition to Work As a Job Seeker Who is Visually Impaired." My first full-time employment opportunity came right after college. I interviewed for the position but did not disclose my visual impairment at that time nor did I disclose when an offer of employment was made to me.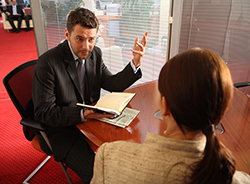 It was not obvious that I had a visual impairment, so after I began working for the company, I informed them of the issue. Managers were unprepared and totally devoid of any knowledge about the Americans with Disabilities Act (ADA) from my perspective. For the record, I was unfamiliar with the ADA as well. Sadly, the human resources department provided no alternatives or solutions either. In hindsight, my gut tells me no matter when I would have disclosed my disability the scenario would have played out the same way. This was a terrible experience, but when one door closes, another one opens.
Story #3: Deciding When to Disclose During the Hiring Process
The next employment experience was better. Even at this point, I still walked without a long white cane or a dog guide. Again, my visual impairment was not obvious. Although I did begin to carry a glass dome magnifier in my bag. I did not disclose before or during the job interview. However, this time, I immediately disclosed my visual impairment after I verbally accepted their job offer. Working with this company was a pleasant experience overall. Management listened and responded to my needs throughout my tenure.
Story #4: My Visual Impairment Was Obvious
My most recent opportunity to disclose my disability came about four years ago. This time my situation had changed quite a bit. A dog guide was now a part of my life. Needless to say, it was much more obvious that I was visually impaired now. I chose to disclose my visual impairment in my cover letter when I applied for the position. I interviewed for the job, and, of course, my dog guide was right by my side during the interview. Lucky for her, she had no need to prepare for it.
Unfortunately, I did not make the cut for the next round of interviews. But, I was comfortable with the way I disclosed my disability and how I presented myself during the interview. Which, in reality, is the goal, to be prepared and to give it my best with no regrets.
So, there are my stories about disclosing my visual impairment during the hiring process. There is no perfect way to do it. Disclosure can come at any time during the hiring process even afterward. There is no law which specifies when or how you must do it. But, your rights take effect when you disclose.
Ultimately, it is your choice, so prepare yourself. Get educated about the Americans with Disabilities Act. Learn it so you can advocate for yourself when necessary.
Connect with a mentor. Perhaps you can learn from his experience as well. Be sure to use CareerConnect's free resources too!
CareerConnect Resources on Disclosure
Tools for Finding Employment: Disclosing a Visual Impairment
Tools for Finding Employment: Writing a Disability Statement
Interview Preparation: Self-Description for Job Seekers Who Are Visually Impaired
Get Your Disability Disclosure On and Embrace Your Diversity