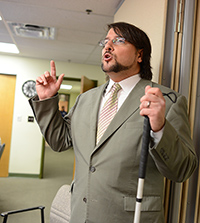 You know that guy or gal who [thinks he] knows everything about everything? The one whose confidence is overpowering and maybe just a tad nauseating? That is not, I repeat not, the self-confidence I am referencing in this mini blog series. Instead, I'd like to coin a new term that illuminates and more clearly defines the confidence I want us to achieve: humble confidence.
Oxymoron? I think not. The balance of humility and self-confidence is imperative. It means you're sure of who you are and certain of your abilities and limits, yet you do not value yourself over your team members. You recognize others have their own skill-sets and you're thankful for it. After all, the variety of talents and skills means you're more powerful and effective as a group.
And just how does this self-confidence, this humble confidence, increase your employability?
You know what you're good at and can foresee how your skill-set will improve a company.
You can discuss your talents and experiences with ease because you recognize and value them.
People, specifically potential employers, will believe your strengths because you will appear certain and trustworthy.
If you are accepting of yourself and your visual impairment, a good employer will be accepting of you and your visual impairment. Your confidence in yourself will be contagious.
You're willing to make career-related decisions based on your desires and needs. In other words, you can take an active role in your career journey.
Your assertive body language is appealing. (Teachers and rehabilitation counselors, utilize the Lesson Plan: Exuding Confidence for relevant instruction.)
You can take calculated risks to advance in your career because you're not paralyzed by fear and you can envision yourself progressing.
You have a realistic view of yourself and you know your limits. You know when to utilize job accommodations related to your blindness or visual impairment, and you know when to make changes or seek training to attain employment or improve your job performance.
You accept new projects and help others, but you also set boundaries and say "No".
You respect and value others' talents, which makes you a natural team player.
Does this in-exhaustive list describe your level of humble confidence? If so, outstanding! I'm proud of you and I do believe you should be a CareerConnect Mentor.
If not, take a few minutes to consider where you are on the imaginary scale of humble confidence. To help you progress, look for the upcoming post, Self Confidence Part 2: How to Foster it as a Person who is Blind or Visually Impaired.
Humbly and confidently,
Shannon Carollo
Build Your Self-Confidence
Self-Confidence Part 2: How to Foster It As a Person Who Is Blind or Visually Impaired
Self-Confidence Part 3: Encouraging Work-Confidence in Teenagers Who Are Blind or Visually Impaired