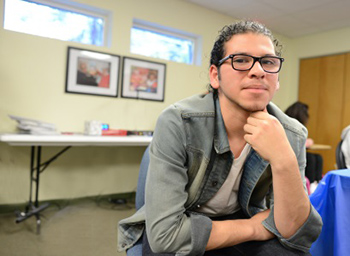 Resources You Haven't Thought of Before
An article by Marilyn O'Malley published on August 3 in The Huffington Post, "Fifteen Amazing Job Resources You Haven't Thought of Before," made me think back on how I found the jobs I've held throughout my six decades of life. You're probably thinking, "You had a job in your first decade of life?" Yes, indeed. My parents believed in earning your keep and expected me to do everything a sighted kid could do. I washed dishes (long before there were dishwashers); set the table; emptied trash cans throughout the house; and helped care for our pet dogs by feeding, brushing, and walking them. Some of you might call them chores but really they were jobs. I developed skills before my tenth birthday that I have used in jobs I've held over the years. Do you have any employability skills that you can translate into a job? Reliable dishwashers in restaurants are always in demand. Large buildings employ people to empty trashcans throughout the day in order to keep up with maintenance. People in your neighborhood are looking for dog walkers and sitters.
I earned spending money by babysitting my neighbors' children. The babies were my favorite, who doesn't like cuddling a sweet smelling infant? Well, they're sweet smelling most of the time. I liked playing with the older kids too. We would sing songs I learned from Girl Scouts, play games, and color. My visual impairment didn't cause me any difficulties. My neighbors saw me outside playing with other kids, doing what everyone else did, and they never doubted my ability to take good care of their children.
Babysitting was just a way to have fun at the time, but it helped prepare me for a job I held at a day care center when my son was a toddler. Babysitting also influenced my major the first time I went to college; I pursued a degree in elementary education with a certification in early childhood education. At the time I thought I was just a babysitter, but looking back, I see that those early jobs influenced the choices I made later.
My First "Real" Job
At the beginning of my senior year of high school, my mom told me that I would have to pay for senior pictures, graduation invitations, a prom dress, and all the other trappings associated with graduation if I wanted them. She had all she could do, as a single parent by then, to support us from day to day. Extra expenses just weren't in her budget. I knew I had to find a job that earned more than babysitting and was in walking distance from my house. So I talked to everyone I knew in my neighborhood to see if they knew of any jobs. Someone told me about a "Help Wanted" sign they saw at Dairy Queen, and I immediately went to apply.
Typical teenager job, right? Well, typical for a teenager who has 20/20 vision. I was legally blind then and even filling out the application was a struggle. I asked if I could take it home and fill it out. When I took it back, I was interviewed on the spot by the manager. I decided to share with him that I was visually impaired. There was no Americans with Disabilities Act (ADA) protection then, and I took a big risk, but it felt right to me. I told him that I cleaned house, washed dishes, and cooked simple recipes at home. He asked how I would write on an order pad, and I showed him that I could do it if I held it close to my eyes. I had to memorize the prices on the menu, but luckily I had a good memory in those days. He taught me how to calculate tax without having to look at a tiny chart and suddenly, I had my first "real" job!
Today there are electronic magnifiers to help with writing tasks, calculators to add prices and calculate tax, and printers with scalable fonts to create documents in large print. Be creative when you're looking for ways to do a task and don't be concerned if it's different than your sighted coworkers as long as you get the job done well.
What I Learned
What did I learn from the six months at the DQ? Well, I learned that being nice to customers isn't easy when you're tired, your feet hurt, and you've got piles of homework to do when you get home at 11 pm. I also learned how to get along with other employees that I didn't especially like (and who didn't always like me); and when a new manager came to the store who didn't like the fact that one of his employees had a visual impairment, I learned to advocate for myself and to keep my temper in the face of prejudice. I learned I didn't want to work in fast food all of my life, but I also learned it felt great to spend my own money on something I really wanted. I still have that senior ring and the prom dress!
Like the article says, networking works, whether you are 16 or 36. It's the single best way to find a job. Don't neglect this resource and work to build your network intentionally throughout your school and working life.
Resources for Finding a Job
Resources You Haven't Thought of Before As a Visually Impaired Job Seeker, Part 2
Resources You Haven't Thought of Before As a Visually Impaired Job Seeker, Part 3