Editor's note: This is part three of a blog post written in response to an article published in the Huffington Post by Marilyn O'Malley, "Fifteen Amazing Job Resources You Haven't Thought of Before." Read part two to learn how you can find a job by utilizing your personal experiences and available resources.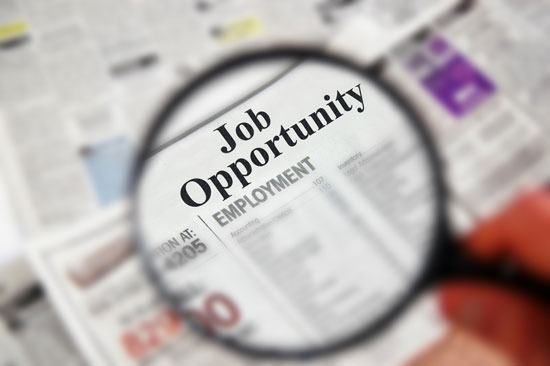 Job Resources You Haven't Thought of Before
When my husband and I wanted to buy a house, necessity sent me looking for full-time employment. I sought the assistance of the state vocational rehabilitation agency, but I didn't wait for them to start my job search. I scoured the newspapers for job leads, today you would also look online. It was a matter of reading about what employers were looking for and matching their requirements with what I could do.
Finding Full-Time Employment
I found a position doing outbound sales using the telephone to market child protection products to retailers. I had difficulty reading the small print from the directory of leads, so my vocational rehabilitation counselor sent me to see a low vision specialist. I was shown a pair of reading glasses that improved my ability to do the job and lots of other tasks in my life. Finding a solution to reading small print was a game changer for me, and if you haven't yet explored your options, I urge you to.
It soon became clear that I'm not good at closing a deal. I learned about the products, told hundreds of people all the benefits, wrote nice follow up letters, and talked to leads on the phone multiple times, but I just couldn't close the sale. It's just as important to know your weaknesses as well as your strengths. This job lasted six months, and during that time I earned enough to pay for the babysitter for our son and the down payment on our first home.
When our son turned two, I was looking for work outside the home again. I needed more interaction with adults, and I found a job posting for a teacher's assistant at a day care center. I felt very qualified for this position given my three years of college as an education major and two years of motherhood. I applied and interviewed for the job, revealed the fact that I had low vision to the manager, and told her how I would handle different scenarios typical to a pre-school environment. My hours were 6 a.m. to 6 p.m., with a four-hour break in the middle of the day, which allowed my husband to provide transportation around his work hours. Other staff who worked a split shift could go home or run errands during their break, but I stayed in the building, which made for a very long workday. Keep this in mind if a job you are considering has a split shift and you don't have transportation that would allow you to leave.
When I arrived for my first day of work, I was told that the teacher I was supposed to work with had quit the Friday before, and I was promoted to teacher in the 4-year-old classroom. Imagine my surprise and honestly my dismay. Suddenly, I was responsible for 28 children, all on my own, and a detailed lesson plan with supply requests for the next month was due on Friday. There was no pay increase associated with the additional responsibility. I very quickly realized I was in over my head and my attempts to solicit help from the director fell flat. I persevered for one month, but finally decided I wasn't the right person for this job. I knew that the safety of the children and my own well-being was at risk. I had to be comfortable enough with myself to admit I couldn't live up to my employer's expectations and in reality, I thought they were unreasonable. Sometimes admitting mistakes is hard, but in this case, I had to swallow my pride, admit I couldn't do the job, and move on.
Finding the Right Fit at Work
Within two months, I found a job as a part-time school bus attendant that was a good fit for me and my family. I helped students who used wheelchairs for mobility on and off the bus, making sure their wheelchairs were secured while they were onboard. The school district's policy required that the children who were on the bus were never left alone. When the bus driver got off the bus to take a child inside a school, I stayed onboard to make sure everyone was safe.
The second year, after our daughter was born, I only worked the morning run. I enjoyed spending time with the kids on the bus each day, and I became very familiar with the streets of my city. Transportation wasn't a problem with this job either. My home was between the bus barn and the first pickup, so the bus came by my house before and after each run. Working close to where you live makes life much easier when you don't drive. Transportation is less expensive too. This is the kind of job you might find on FlexJobs as mentioned on the Huffington Post article.
When a change of policy eliminated my job as a school bus attendant, I began work as a retail clerk at a children's store where I frequently shopped. Networking landed me the new job when I wasn't really looking for work. The shop owner needed some extra help, so she told someone who knew me that she was looking for an employee. They told me because they knew how much I loved her shop. I helped customers, arranged store displays, unpacked new merchandise, and kept everything neat and tidy.
Volunteering Can Lead to Big Decisions
After my son started kindergarten, I had the opportunity to volunteer at his school. They were converting the library from a check out system that used cards to UPC codes that had to be stuck to the spines of the books, protected with vinyl tape, and entered into a database. After several months, the project was complete, and the librarian who had gotten to know me asked me to continue to help in the library. I was also room mother in my son's class, so I helped with parties, seasonal decoration changes, and anything else the teacher needed help with. It was during this time that I realized I didn't want to be a classroom teacher. I came to the conclusion that teaching would take all I had to give, and there would be nothing left over for my family at the end of the day. It was a tough decision to make, but I knew I didn't want to finish the degree I started.
I was finally ready to go back to college when my daughter started kindergarten. I enrolled in a freshman composition and interpersonal communication class for women returning to school at the community college and began to reinvent myself. I learned a lot that semester, but mostly I learned that I didn't know a lot about the world of work. I only knew about jobs that I had done or had seen someone else do and that was limited to my family and close friends.
A counselor in the Office for Student's with Disabilities brought a brochure about her almamater to me and everything I read sounded great. A degree in rehabilitation science would prepare me to work with people with disabilities in a wide variety of roles. I jumped in with both feet the next semester. Within 12 months I finished 48 semester hours and when combined with the prerequisite hours from my earlier college days, I earned my bachelors degree.
Understanding my strengths and weaknesses and my willingness to persevere made a huge difference in my work life. Volunteering at my son's school, exploring careers in the community college classes, and talking to people about options I never even imagined existed, changed the course of my career. By volunteering for something I cared about, I found unexpected opportunities.
Resources for Finding a Job
Resources You Haven't Thought of Before As a Visually Impaired Job Seeker
Resources You Haven't Thought of Before As a Visually Impaired Job Seeker, Part 2