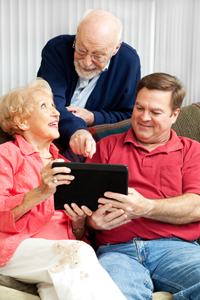 Have you seen the 2015 film, "The Intern"? If so, you remember Ben Whitaker (played by Robert De Niro) pursuing an internship after finding retirement rather lonely. He interns with a young professional (played by Anne Hathaway) who gradually recognizes Whitaker to be a source of wisdom, chivalry, and sound business principles.
She realizes Whitaker's know-how and insight are profoundly valuable, not to mention she genuinely enjoys his company.
You, yes you, are also valuable in the workplace. Your experiences and knowledge bring a richness, depth, and perspective that cannot be duplicated.
If you are ready to begin your job search as an individual over age 50 who is blind or visually impaired, please visit the resources provided in the bulleted list:
You may also find the following resources, geared to job seekers of all ages, helpful:
Conducting a Successful Job Search, an article series walking one through each step of the employment-seeking process.
Browse Jobs by Career Clusters, a tool useful for exploring job opportunities within career categories.
Mentor Search, a tool useful for asking professionals who are blind or visually impaired how they are successful at their jobs.
Find Services for People Who Are Blind or Visually Impaired, a tool useful for finding a local service provider who can teach you the skills you need to perform job functions without the use of vision.
If you are looking for specific resources, please type your questions and concerns in the comments section below.
Read About the Work Experiences of Other Seniors
Joel Tepperberg from Carpentry to Cooking
Pauline Winick, a Job Coach Who Knows How to Help Job Seekers with Vision Loss Win
Amy Suniga Parlayed Her Volunteer Job into a Paying Job at Another Company
Learn What Other Seniors Have to Say About Finding or Keeping a Job