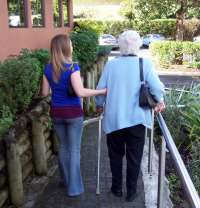 Desiring the content of the APH CareerConnect blog to be relevant and useful, I recently asked a group of adults with visual impairments for their career-related concerns and questions. The first question that caught my attention was from Andrew; "How can a person who is blind or visually impaired get training if there is no local support?" This is an important question, Andrew. Please hear my response that is intended for all people who are blind or visually impaired living in rural communities
First, don't assume there are no vision rehabilitation services in your area. When I worked as a transition specialist with the Lighthouse of the Big Bend in Tallahassee, Florida, I often drove 80+ miles to work with youth in their homes, and drove 80+ miles back to the office. Yes, many of my students lived in rural communities and pursued vision rehabilitation services. Contact your local Division of Blind Services and search AFB's Directory of Vision Rehabilitation Services to discover if there are service providers who cover your remote area.
Second, I encourage you to consider residential vision rehabilitation programs. Several centers across the United States offer training programs, typically between 4-12 weeks in duration, designed for persons who are blind or visually impaired. Training includes adjustment to blindness and instruction in braille, cane and bus travel (called Orientation and Mobility), vocational rehabilitation, computer and adaptive technology, recreational pursuits, social skills, and home management skills. Some centers and university programs offer residential college preparation training, and other centers offer programs specifically for veterans. It may be difficult to place your life on hold for 4-12 weeks while you acquire skills, but it may be the training you need to attain and succeed in gainful employment. Browse the Connecticut Department of Rehabilitation Services' list of US residential programs for people who are blind or visually impaired.
Third and final, take advantage of distance learning courses, often provided free of charge, that are designed as a means of vision rehabilitation. Widespread topics include, but are not limited to, independent living, indoor orientation and mobility, assistive technology, eating skills, personal grooming, sensory development, and GED preparation. Training is provided by organizations such as The Hadley School for the Blind, E.A.R.S. for EYES Program, and CIL Publications and Audiobooks. APH CareerConnect offers The Job Seeker's Toolkit, an accessible, self-paced, and free course that helps users explore careers, the job interview, the employment process, and helps users learn the basics of maintaining employment.
I hope you learned that living in a rural community does not mean you are unable to receive vision rehabilitation services. It may be less convenient and it may take a great deal more personal responsibility and motivation, but it is possible. Here's to pursuing the training needed to establish a successful career in 2015!