It's officially National Disability Employment Awareness Month (NDEAM)! A time to celebrate the contributions of workers with disabilities and educate about the value of a workforce inclusive of their skills and talents.
To kick off our favorite month, we are sharing Trina Bassak's story. Trina is a physical therapist and VisionAware peer advisor who has glaucoma. After a difficult job search, Trina landed a job with AIM Home Health and quickly learned how to adapt her 27 years of experience into a new role as a home health physical therapist.
Perseverance Pays Off: Finding Gainful Employment As a Physical Therapist
By Trina Bassak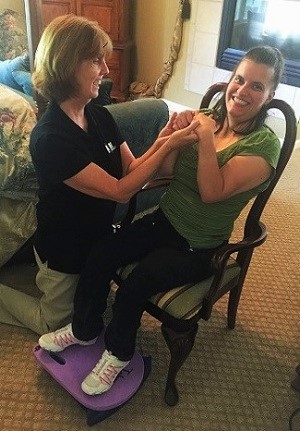 Each year in October, when National Disability Employment Awareness Month (NDEAM) presents itself, I reflect back on my journey to my current employment with AIM Home Health. It is often an unsettling and painful recollection, but one that fills me with renewed appreciation and gratitude for what I have. Two years ago, I detailed my job hunt for VisionAware and shared my frustrations and challenges, hoping to inspire others to persevere their way to employment.
I have now been working as a home health physical therapist for two years, which was a huge adjustment from working in an outpatient clinic. The clinic was a more structured environment for a blind person, although portable equipment and exercise devices were continually in different places. Now, I am in people's homes and have to expect the unexpected all the time. There are often different objects, moving furniture, toys, additional people, small places to work with, and the ever-curious pets. But I have learned to adapt quickly to changing circumstances and maintain a sense of confidence and professionalism. My technician/driver will alert me to safety issues such as stairs, especially if I am working hands-on with a small child (which is often the case). It took a few months to educate my technician and others on what I needed as a person with vision loss; many coworkers have never worked or interacted with someone who is blind. Education is important to help your coworkers feel more at ease, and humor can definitely alleviate an awkward situation.
My job accommodations are similar, different, and ever-changing from my previous position! I still use my computer with a JAWS screen reader to perform documentation. This has been a continuous battle, as our website for documentation has changed twice in the time I have been employed. The most current system is not completely compatible with screen readers, and I am still coming up with workarounds with help from a technology specialist. My optical character recognition (OCR) technology comes in handy for scanning printed information from continuing education courses, work policies, newsletters, and anything else that comes my way. I use my laptop computer to communicate with the office staff via email on a secure site as I am out in the field. My smartphone with Voiceover also helps me keep in contact with the office and with text messages for scheduling patients.
The technology is valuable to my job, but the part I enjoy the most is working hands-on with children and adults. Teaching them skills, such as helping a little one learn to crawl or educating an adult about new exercises that will improve their strength and flexibility, are the most rewarding aspects.
Since work takes up so much of my time, I make sure to have other interests and hobbies to balance life. I enjoy vegetable gardening with my husband, roller skating, and yoga, in addition to reading and volunteering with 4-H. I discovered during my job search that it is essential to have other rewarding and enjoyable activities in your life. I still identify closely with the part of me that is a physical therapist, but there are many other interests and skills that make me who I am.
Success Stories from Employees Who Are Blind or Low Vision
Read stories of other people who are blind or visually impaired who are succeeding at work and life.
Employment Resources for Job Seekers with Vision Loss
Utilize APH CareerConnect's free online resources to find career success for yourself.