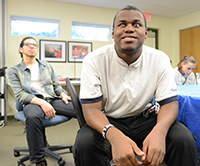 Spring has sprung! Okay, not exactly, but that's what I thought when I sat down to write this blog and share with you the new transition offering from Perkins School for the Blind that will be launched during the 2016 spring semester. The Pre-Employment Program (PEP), which begins January 16, 2016, will be offered at the Perkins Watertown, Masschusetts campus every other Saturday through May. And, yes, there are snow days built-in to the schedule – just in case!
This dynamic transition program is offered to give young adults with visual impairments the information and skills they need to explore careers as well as gain the confidence to search for work. The course is tailored to youth between the ages of 15 and 22 who want to strengthen their job readiness skills and break through the barriers that have traditionally kept many adults who are blind out of the labor market.
Perkins School for the Blind has been teaching students with blindness and visual impairment for more than 185 years—longer than any other school in the country. The PEP co-facilitators are Perkins educators who've worked with students in the public schools and on the Perkins campus. In addition to working with these educators, PEP participants will hear from and meet guest lecturers with and without visual impairments. Hiring professionals and disability specialists from leading Boston corporations like Wells Fargo and Tufts Health Plan will present to the participants on a range of topics related to employment. Likewise, individuals with expertise in assistive technology and a wide range of other disability-specific skills will describe how to manage competently in the world of work without sight or with low vision.
The young people who graduate from this program will understand what, when, and how to disclose their disabilities in the recruitment process and explain their needs for workplace accommodations or modifications. They will demonstrate their problem solving and goal setting skills by developing comprehensive action plans that will guide their future training and employment experiences. And, they'll be guided by strong role models who are visually impaired as they make their plans.
In support of their classroom efforts, the students will join and be guided through an online social media site, Yammer, where they can interact with one another and the faculty when they are not in class. This effort will be facilitated and monitored by Perkins faculty to ensure the experience is positive and productive.
Much like spring bulbs, the expectation is that these young adults will bloom and be prepared to enter their adult lives bedecked for success!
The Pre-Employment Program is open to students and young adults ages 15-22. Learn more at Perkins.org/gotowork.
Karen Wolffe, Ph.D., CRC