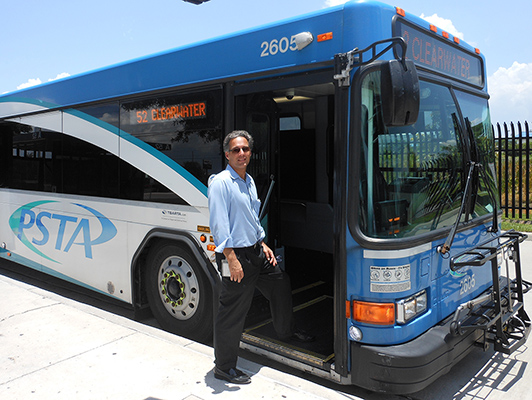 As a Teacher of Students with Visual Impairments, I value the opportunity to spend time with adults who are visually impaired and successfully employed. On those occasions, I find myself noting the skills the adult has and am reminded of what I need to teach my students so they can achieve the same success in the working world.
I recently had lunch with a friend of mine, Ross Silvers. Ross is the Mobility Manger for Pinellas Suncoast Transit Authority (PSTA) and he uses the bus as his primary mode of transportation. When I picked Ross up for lunch, he asked me if I wanted to eat inside or outside. Even though it was a typical humid Florida day, I chose outside. As I drove, Ross gave me directions for the fifteen minute drive to our waterfront destination; somewhere I had never been. Ross' directions were exact and incredibly helpful as I navigated the hectic lunch time traffic in St. Petersburg. His instructions included landmarks and cues for when I needed to turn and even for where I should park.
As a non-driver and my passenger to lunch, Ross' confidence and preparation for knowing how to get to our destination was appreciated. With his assistance, I was able to enjoy talking with him during our drive to and from the restaurant instead of focusing all of my attention on driving.
What did I take away from my time with Ross? I was reminded the importance of teaching my students to expand their transportation options as non-drivers to include the possibility of riding with friends, co-workers and family members to destinations. It is important for my students to not only know how to politely ask for a ride but also to know how to care for the driver during and after the ride. Teaching these skills to students who live in rural areas where riding the bus is not an option is especially important. People will be more likely to give my students rides if they present with the same confidence and preparation as Ross did.
Consider teaching persons with vision loss the following tips so they are perceived as a contributing passenger and are always welcomed to "hitch" a ride with others:
Know the route for the destination in advance.
Use a GPS Navigation App on a mobile device to listen to the directions as you ride and share the directions with the driver.
If you frequently ride with the same person, reciprocate with perhaps one of the following gestures:
Give him money for gas or pay for an oil change.
Buy him a cup of coffee or lunch.
Send him a note of appreciation.
Offer one of your skills or talents to do him a favor such as cooking dinner or troubleshooting his computer issues.
Ross exudes the same self-assurance and organization as a daily bus rider. He has not let the issue of non-driving prevent him from pursuing and maintaining employment. As your read the interview with Ross, consider what will you take away from him that you could teach your student, your client, your teen, or even yourself to increase employment opportunities for persons with vision loss.