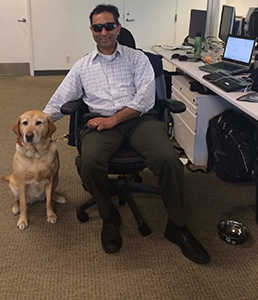 Do you desire to learn? CareerConnect is excited to introduce you to a new CareerConnect mentor, Joel Isaac. Joel's lifelong desire to learn is something we should all strive to have more of; especially job seekers. It could be the one skill you need to improve upon in order to land or maintain a job.
Joel is a Senior Accessibility Specialist: Subject Matter Expert for JPMorgan Chase (one of the largest banking institutions in the United States). APH CareerConnect staff had the opportunity to meet Joel at the 2015 AFB Leadership Conference in Phoenix, Arizona (Joel was gathering new information of course!). Joel's story is one in which every young adult with vision loss pursuing employment can ascertain something from – especially if time is taken to do the following:
Learn the subject matter required for your desired profession or job.
Learn about potential employers before your job interview.
Learn about yourself and recognize when you need to ask for assistance.
Learn and use the technology which will help you get your job done (and know when a change in technology is needed to compensate for further vision loss).
Learn from your mistakes and determine how you can do it better next time.
Learn the special skills you need for success and keep them distinct.
Learn from others by putting yourself in another person's shoes or by attending professional conferences.
Learn to be persistent by overcoming barriers.
Learn how to "way find" and when all else fails, ask for directions. You may just learn something.
As you read Joel's story you will be motivated and inspired not only by his knowledge and humility but also from his opinions about life's experiences which include raising a young child as a father with a visual impairment. At the end of the article, Joel's opinions may very well become yours, and that very well would be a good thing.